Before the birth of my youngest son, I had two miscarriages and an abortion. That pregnancy haunts me to this day. My son, my precious child, would have been 12.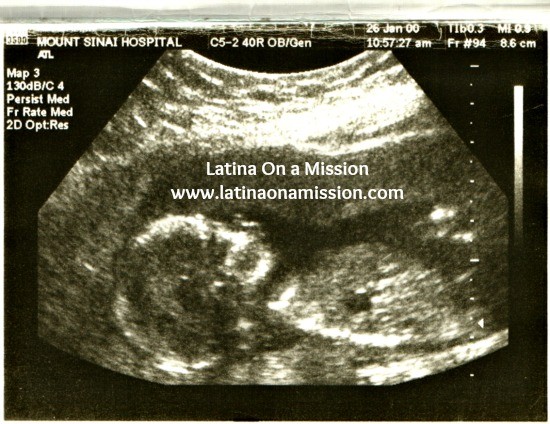 During that pregnancy, I was placed on partial bed rest. I was high risk. My body had so much trouble holding onto my boys. Yet, this pregnancy lasted longer than the other two. I was about 6 months along. We thought we would hold him in our hands in just a few short weeks.
We didn't.
I went home with empty hands and I mourn him every day.
I recall that day as if it was yesterday. My water broke as I was talking on the phone with my cousin, Lourdes. I had been having cramps on and off. I wasn't supposed to be walking but I had another child to care for. He needed me; as a result, I had my now ex-husband leave work and escort me to his after-school just 5 short blocks away. My ex was rushing . He had missed so many days already, I knew he was worried he would not make it back to work on time. I tried to rush. I couldn't. The pain hit 3 blocks into our trip. I doubled over. I had to stop. Eventually, the pain stopped. We made it to our appointment and I returned home.
As directed by the Doctor, I drank lots of water and laid down with my legs propped up. The Doctor said this would stop the cramping. It did. I was reassured.  I turned on the television and called my cousin Lourdes. As we were chatting, I felt a gush. I thought I had an accident but it didn't stop. It didn't stop.
Ignorantly, hopefully, I tried to stanch the flow by holding my hands over it.
It didn't work.
I called my ex-husband as I left the apartment. The amniotic fluid continued to leak out of me. It wouldn't stop as I walked. I recall looking back, I had left a trail. In the back of my mind, I wondered how my baby would survive. I felt him kicking, shoving, and as my body released the fluid, I saw it. His hand pressed on my deflating belly. His tiny fingers shoved against a stomach that had shrunk.
My ex-husband raced home. Thankfully, he worked only a few short blocks away. He put me in the car and raced to the hospital. They sent me to a room. A Doctor came. I can't recall his name. The only thing I remember is that he said I had to expel the fetus.
"The fetus?" I thought.
It's not a fetus. This was my son. The son, I had anticipated. The son, I had hoped for. The son, my ex-husband and I had planned. No, this was not a fetus. This. Was. My. Child.
The Doctor went on to say that I could not leave the fetus inside. It would cause an infection without the amniotic fluid. At best, he would die from an infection. At worst, we would both die from the infection.
I couldn't believe it. I did not WANT To believe it. I frantically tried to call my high risk Doctor. I would not do as this Doctor said. I would not consider it. I began to dress. I could not stay where they would not attempt to save my son. The Doctor and nurses on staff tried to convince me. I refused. I was going to my hospital.
The Doctor pulled my ex-husband aside and spoke to him. He told him I was in danger. He, my ex-husband, tried to talk to me. He seemed unsure but was willing to follow my lead. He called my Doctor. They spoke for a short while. Shortly after, I was given a release form and taken via ambulance to my Doctor's hospital.
She was waiting.
She escorted us to a room where she conducted a physical and took a sonogram. My son was alive and moving. I saw him. I saw his small body. I saw his fully formed hands and toes.
She reiterated what the other Doctor had already said. I refused. I would not abort my son. I was adamant. There had to be a way. Lord, I prayed for a way.
Over the next two days, the Doctor tried to convince me. She noted the baby was not fully developed. She noted if, and that was a big if, he survived he would have disabilities. She noted that the longer he stayed inside of me, the greater the risk of infection for him and for me. I didn't want to listen. I wanted my unborn son.
I. Wanted. My. Son.
The last time I saw him, the last time I felt him, he was stretching out his hands. His fingers were pressing on the inside of my belly. I saw every single one as he stretched inside me, trying so very hard to find more room.
I opted to have  general anesthesia. I could not go through the process of expelling him via a vaginal birth. I could not imagine going through the pain, of seeing him, to have to leave him behind. I was not that strong.
I went home that day, broken. The decision to terminate that pregnancy was decided because my health was at risk; however, if not for my oldest I would have attempted to hold onto that pregnancy. As my only child, he needed me. I was, and still am, his sole guardian. I had full custody. Where would he go should something happen to me? Who would take care of him? How would he have felt growing up without a mother? All these questions went through my head as I lay in that hospital bed. I may have yearned for my unborn son but I had a live, feeling, hurting son at home. I could not risk leaving him without the care of a mother.
Why do I share this with you, my readers?
I am one of the many who sometimes are not considered by others who are adamantly pro-life. My abortion was induced because my health was at risk.  I am one of many who had the option to choose … I am a Christian and I believe it should be an individual choice that should not be taken away. Plain and simple, we should all have the ability to make our own decisions about our bodies and our lives.
That day when I returned home, I hugged my oldest, Karl, extra hard. My son was alive. He. Was. Alive. And because of my decision 12 years ago, I am alive and I now have the opportunity to hug my other son, Andrew, as well.