"Education is the most powerful weapon which you can use to change the world." ~ Nelson Mandela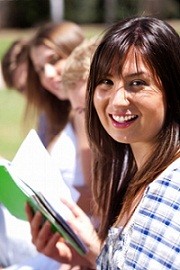 In this day and age, education is the key needed to open opportunities and possibilities. It transforms a person's world! Knowing this, I'm always so excited to share scholarship opportunities with you, my readers. If you can not use the information yourself, please share it with others. It may be the financial incentive they need to complete their education!
There are currently four different scholarship programs available:
RMHC®/ASIA (Asian Students Increasing Achievement)
RMHC®/African American Future Achievers
RMHC®/HACER® (Hispanic American Commitment to Educational Resources)
RMHC® Scholars (Open to all students, regardless of race, color, creed, religion, sexual orientation, gender, disability or national origin.)
Note, graduating high school seniors may only apply for one of the four scholarships.
To apply for an RMHC scholarship, a student must:
Be a high school senior
Must carry a minimum 2.7 GPA.
Be younger than 21 years old
Be eligible to attend a two- or four-year college or university with a full course of study
Be a legal U.S. resident
Live in a participating RMHC Chapter's geographic area
Submit a complete application and all required documentation by the deadline on the application
Meet any additional eligibility requirements outlined by each scholarship program
Verification of enrollment each year at the student's accredited post-secondary institution
Students may download one of the four applications by going to the RMHC U.S. Scholarships webpage or submit a scholarship online.
The deadline for the 2013 RMHC Scholarship program year is December 20, 2012, and all mailed back-up documents must be postmarked by the same date.
Together we can help a child reach for stars, so please share this post with others.
¡Abrazos! / Hugs!
Let's talk! How did you fund your education? Please share below. It may inspire another!