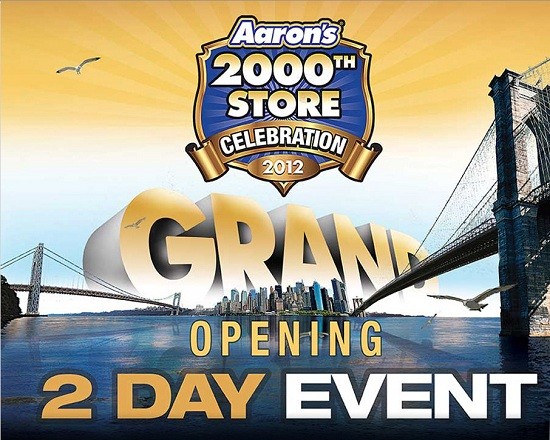 Beginning on Friday, September 28, Aaron's is hosting their grand opening 2 Day Event, full of food, fun, and giveaways
…
lots and lots of giveaways,
including  a 73 inch TV
!
Aaron's, a consumer electronics, computers, residential furniture, household appliances and accessories lease retailer, is hosting the event to celebrate the grand opening of their newest store, located at 3254 White Plains Road, Bronx, NY 10467.
With a long standing commitment to family and community, Aaron's is excited to celebrate with their newest neighbors. So, gather your friends and family, and join Aaron's FREE carnival games, face-painting, magic shows and more. While there, make sure to head over to Aaron's booths to get a closer look at their merchandise. As a leading lease retailer in consumer electronics, computers, residential furniture, household appliances and accessories, Aaron's provides lease and retail sale of a variety of products.
Similar to when you lease a car, with your very first payment, you can leave Aaron's with your product of choice. It's easier than lay-away, more flexible than a credit card, and way smarter than rent-to-own! It's perfect for anyone who wants the latest consumer electronics and computers, enjoys re-decorating, and wishes to save their credit and cash. And, let's be honest, in this economy, having disposable cash and credit is always a plus.
Below I have noted the Grand Opening event details. You can also input your address below to get driving directions.
Friday (9/28) Day One of Aaron's Grand Opening Event
11:00am -11:15am Ribbon cutting by Aaron's Executives
11:15am -11:30am Babe Ruth Portrait (painted by the world famous portrait artist Rossin). Dedication by Joe Torre accepted by the Baseball Hall of Fame.
12:00pm Customer Appreciation Lunch – catered by Bristas Del Caribe Restaurant – YUM!!!
3:00pm Johnny Mambo Salsa Band, on Aaron's Event Stage for Entertainment, Dancing and Prize Giveaways
Saturday (9/29) Day Two of Aaron's Grand Opening Event
Breakfast for the Customers catered by Empire Bagel
Aaron's 2000th Store Kid's Carnival:
• Carnival Games
• Face Painting
• Visit with the Lucky Dog Mascot who will have Aaron's prize packs.
• Magic Show by professional Magician
• Popcorn and Cotton Candy Carts (free)
• Balloon Twister
• Alex Sensation from Mega 97.9 to be on-site broadcasting live with concert ticket giveaways
• Food Truck on site for easy and fun lunch
• On-going entertainment with promotional give-aways on the Aaron's stage in front of the store
Find out more about Aaron's on the Aaron's website, Facebook page and Aaron's Twitter account.
Click below for driving directions.
Let's talk! Do you purchase the latest consumer electronics, computers, or home furnishings, as soon as they come out?
Disclosure: This is a sponsored post created for Aaron's, a leading sales and lease retailer. Although I have not shopped at Aaron's yet, I believe it's a great option for those who enjoy having the newest products available on the market.