As a child, I recall waking up to the smell of Clorox every Saturday. It was our cleaning day. El dia when Clorox reined in our apartmento. It was used to clean the floors, the kitchen and the bathroom – with two cochinos* brothers, trust me, that bathroom needed it!
Clorox to me is like Vicks is to most Latinos. It's magical! It cleans, disinfects and makes everything glittery…OK maybe the glittery part is a bit much but it definitely made our apartment feel clean.
Now that I have my own familia/family, I continue my Mami's tradition. Saturdays are still my cleaning day. The only difference is the method. Instead of the original liquid Clorox,  we now use Clorox Disinfecting Wipes, Clorox Beach Foamer (love!), and now we're going to add their newest line Clorox Fraganzia to our arsenal.
If you haven't had the opportunity to try Clorox out yourself, I have a surprise for you. Clorox is giving away one year's supply of Clorox Fraganzia to one (1) Latina On a Mission reader! The line is sure to make cleaning feel much more pleasant – or at least as pleasant as cleaning can be!

The scents for the multi-purpose cleaner and air freshener are:
Lavender with Eucalyptus and Mint
Spring
Forest Dew
The scents for the toilet bowl rim hangers are:
Lavender with Eucalyptus and Mint
Pine Woods
Fresh Squeezed Lemon
Want to know more about Clorox's newest line? Head on over to the Clorox Fraganzia Facebook Page!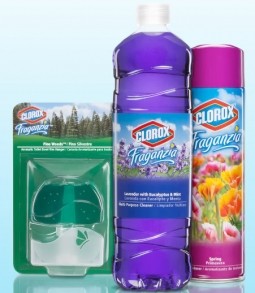 To enter, answer the mandatory question in a comment. Want more chances? Read on!
¡Suerte! / Good luck!
MANDATORY ENTRY:
Which Clorox Fraganzia scent listed above would you like to try?
EXTRA ENTRIES AVAILABLE AFTER MANDATORY ENTRY IS COMPLETED – LEAVE A SEPARATE COMMENT FOR EACH ENTRY TO COUNT:
1. Subscribe to my blog via email or feed, and/or "Like" Latina On a Mission's Facebook page for one (1) entry EACH. If you already do, let me know in a comment!
2. Follow @MsLatina on Twitter and tweet about the giveaway, stating the below. Provide me with the tweet URL in a comment. One tweet per day till the giveaway ends, so go ahead tweet away!
Enter to win a year supply of Clorox #Fraganzia cleaning products on Latina On a Mission: http://bit.ly/MiClorox #SMlatinas #Giveaway
3. Leave a comment on ANY other post, dated August 7, 2012 or later, for TWO (2) extra entries. Let me know you did so in the comments below.
4. Blog about this giveaway, linking back to this post, and provide me with the URL for TWO (2) extra entries.
5. Share this post, or another, on Google+, Stumble Upon, Technorati, Digg, and/or Facebook. Each post shared gives you 1 extra entry. Just let me know which post you shared and your username, if applicable!
********************
Giveaway ends September 11, 2012 at 11:59 A.M. EST
Open to US residents only
********************
Void where prohibited. Must be 18 years or older to participate. No purchase necessary to win.  Winner will be randomly selected and notified via email. Winner has two (2) days to respond before a another winner is selected. Entries/Comments must follow the submission guidelines to qualify. Prize is non-transferable.  
Translation: Cochino means pig