Yesterday, I had the opportunity to see an advance screening of The Amazing Spider-Man™ in 3D.
Click here to read  THE AMAZING SPIDER-MAN Movie Review with spoilers.
********************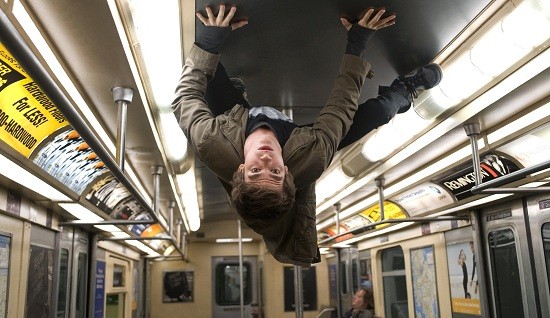 The Amazing Spider-Man™ is unlike any of the previous versions. The graphics, action and actors meld together to show you a side of Peter Parker's story that's never been seen before. It is the story of a child abandoned by his parents and the lengths one will go to uncover those family secrets. The abandonment is shown in the first few minutes of the movie, when the parents pack up and drop Peter Parker (Andrew Garfield) off with Uncle Ben (Martin Sheen) and Aunt May (Sally Field).
We then fast forward to Peter's teenage years. In this portrayal, Peter Parker is shown as a skate-boarding, photo-taking, super intelligent, outcast. Like most teenagers, Peter is trying to figure out who he is and how he got to be the person he is today. Peter is also finding his way with his first high school crush, Gwen Stacy, who is played superbly by Emma Stone. Together, they struggle with love, commitment, and secrets. Peter soon finds an old briefcase that belonged to his father, and with the discovery  secrets begin to unravel and the trail of his parents' disapperance leads him directly to Dr. Curt Connors (Rhys Ifans), his father's former best friend and business partner. This knowledge brings him on a collision course with his future as Spider-Man, Connors' alter-ego, The Lizard, and life-altering choices to use his Spider-Man powers and shape his destiny, and others around him.
Unlike the previous Spider-Man, played by Tobey McGuire, I believe Andrew Garfield embodies the look, strength and snark needed to re-create the Spider-Man Marvel originally intended in their comic books.  Garfield convinces you with a combination of boyish charm, snark and vunerabilty. I, also, enjoyed the chemistry between Garfield and Emma Stone. Their relationship seemed geniune.
I also have to commend Sally Field on her performance. Although she is only seen as a supporting role, she did it fantastically! She reminded me of the comic book Aunt May, with her combination of vulnerability and strength. Totally loved her!
Overall, I give this movie a 5 star and I have never, ever said that on this blog. It's a great  fit for families and a must see. See it in theaters and make sure you get the DVD when it comes out. I sure will!  
The Amazing Spider-Man was rated PG-13 by the MPAA for sequences of action and violence. Note, smaller children who are easily frightened may be afraid of some of the action scenes.
Let's talk! Are you a Spider-Man fan? Let us know in a comment!
On Fridays, get 2 for 1 movie tickets when you use your Visa Signature card.