ALERT! The below movie review for THE AMAZING SPIDER-MAN has spoilers. Click HERE to read THE AMAZING SPIDER-MAN movie review withOUT spoilers.
THE AMAZING SPIDER-MAN, in 3D, opened nationwide on July 3, 2012.
Unlike the previous Spider-Man flicks that follow Marvel's comic book plot, THE AMAZING SPIDER-MAN creates a new, untold story. Utilizing a new cast (shown below)  helps the audience with the transition.
Spider-Man Cast:
Andrew Garfield – Peter Parker
Emma Stone – Gwen Stacy
Rhys Ifans – Dr. Curt Connors
Denis Leary – Captain George Stacy
Campbell Scott – Richard Parker, Peter Parker's Dad
Embeth Davidtz – Mary Parker, Peter Parker's Dad
Irrfan Khan – Rajit Ratha
Martin Sheen – Uncle Ben
Sally Field – Aunt May
Background Info:
The film is directed by Marc Webb from a screenplay written by James Vanderbilt, Alvin Sargent and Steve Kloves. The screenplay is from a story by James Vanderbilt, based on the Marvel Comic Book by Stan Lee and Steve Ditko. Yes, I know it's a mouthful, but I want to give these men credit for reviving a fading comic book hero and movie franchise.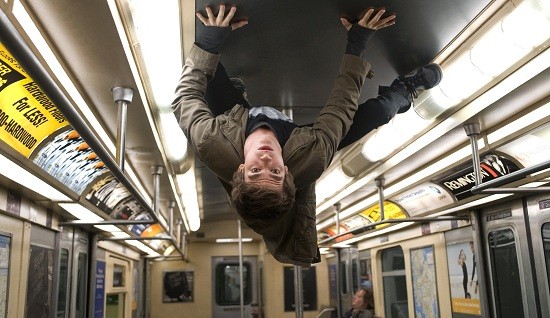 Review with Spoilers:
THE AMAZING SPIDER-MAN tells the story of Peter Parker, a skate-boarding, photo-taking, science loving outcast high schooler. Yet the movie doesn't start there. The opening scene starts with a glimpse at Peter's past, the last day he saw his parents. Peter is seen walking about the house, calling out for his father before entering his father's office to discover the window broken and papers scattered. His cries raise an alarm, summoning his father who races into the room. Opening a secret drawer the father removes several scientific documents, placing them inside a briefcase. Although, we can't see their contents, we know beyond a shadow of a doubt that those papers are the reason they're in danger.  Grabbing Peter, the family races to Uncle Ben and Aunt May's house where they leave him to be raised.
Fast forward several years and we're introduced to a teenage Peter. Like most teenagers, Peter is trying to figure out who he is and how he got to be the person he is today. Peter is also finding his way with his first high school crush,  the intelligent and sassy Gwen Stacy, not Mary Jane. Their chemistry is palpable and much more believable than the one shown by Tobey Maguire and Kirsten Dunst in the previous Spider-Man flicks.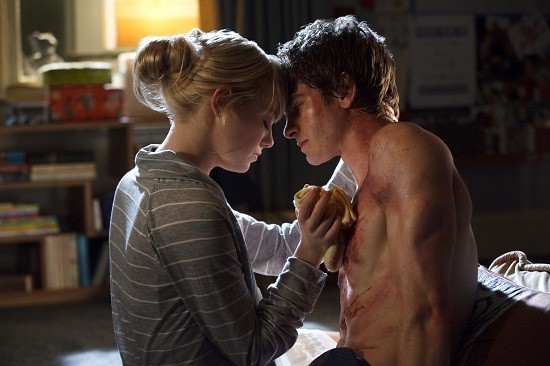 While helping his Uncle Ben with a small flood in the basement, Peter discovers his father's briefcase and an old newspaper clipping. Both turn his world upside down!  
The newspaper clipping is an important discovery. It leads him directly to Oscorp, where Gwen Stacy also works, and the lab of Dr. Curt Connors, his father's former partner and best friend. Yet, it pales in comparison to the documents Peter finds in a secret compartment of his father's briefcase, the very documents he saw his father hide on the night they ran from their home and the reason why they ultimately disappeared.
In his quest to understand his parents' disappearance, Peter Parker is transformed into the amazing Spider-Man. He makes life-altering choices to use his powers and shape his destiny to become a hero, after the tragic death of his Uncle Ben. These choices prepare him for the collision course with Connors' alter-ego, The Lizard, who he unwittingly helped to create with the information contained in his father's documents. Feeling responsible, he resolves to stop The Lizard, but at what cost? 
Memorable Quotes:
Aunt May to Peter Parker: Secrets have a cost. They're not for free, not now, not ever.
Dad: I remember someone saying last week that her fantasy was to live in a chocolate house.
Gwen: Well, that's impractical. (Slams door)
Gwen: (Opens door) … and fattening (Slams door)
Gwen to Peter Parker: He made you promise, didn't he? To stay away from me, so I'll be safe.
Let's talk! Have you seen the movie? Who do you think is a better Peter Parker/Spider-Man: Andrew Garfield or  Tobey Maguire? Let us know in a comment!
On Fridays, get 2 for 1 movie tickets when you use your Visa Signature card.