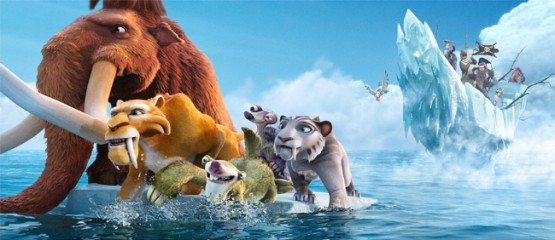 ICE AGE 4: CONTINENTAL DRIFT, rated PG, opened nationwide on July 13, 2012.
Review
I attended the ICE AGE 4: CONTINENTAL DRIFT screening with my tween and one of his classmates.  We were celebrating his classmate's 12th birthday with a movie and cake. We had a wonderful time!
Like the previous Ice Age movies, the latest installment contains some mild rude humor and action, not surprising since it is rated PG. As an adult, I can find the humor in it, as can my tweens; however, parts of it may go over the heads of  younger children  – thank goodness!
The sassy Peaches, voiced by Keke Palmer, was fabulous. She showcased the normal 'tude most parents face during tween/teen years. Yet, she also showed wisdom and maturity. Granted, she had to overcome several obstacles along the way – including losing her father Manny, voiced by Ray Romano, to obtain it; however, it's good to know she learned the value of true familia / family.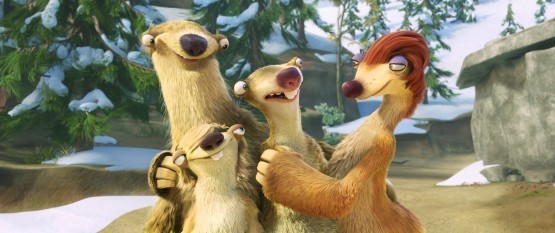 Sid the Sloth, voiced by John Leguizamo, had the opportunity to reunite with family.  His Granny played by the fantastic Wanda Sykes was HE-LAIR-I-OUS. And yes I spelled it that way on purpose – figured it would help you imagine my voice in your head!

 While Diego, voiced by Denis Leary, found true love with a spunky saber-tooth tigress named Shira, voiced byJennifer Lopez.
The movie has something for everyone: action, romance, and comedy. Overall the boys and I enjoyed Ice Age: Continental Drift and highly recommend it as a summer flick. 
Official Synopsis
Scrat's nutty pursuit of the cursed acorn, which he's been after since the dawn of time, has world-changing consequences – a continental cataclysm that triggers the greatest adventure of all for Manny, Diego and Sid. In the wake of these upheavals, Sid reunites with his cantankerous Granny, and the herd encounters a ragtag menagerie of seafaring pirates determined to stop them from returning home.
The film features the voice talents of Ray Romano, John Leguizamo, Denis Leary, Seann William Scott, Josh Peck, with Jennifer Lopez and Queen Latifah. Peter Dinklage, Wanda Sykes, Aziz Ansari, Keke Palmer, Drake, Josh Gad, Alan Tudyk, Nick Frost, Joy Behar.
Let's talk! Have you seen any of the Ice Age movies? Which is your favorite?
Click HERE to sign up to receive Latina On a Mission's emails. It will totally make us BFFs