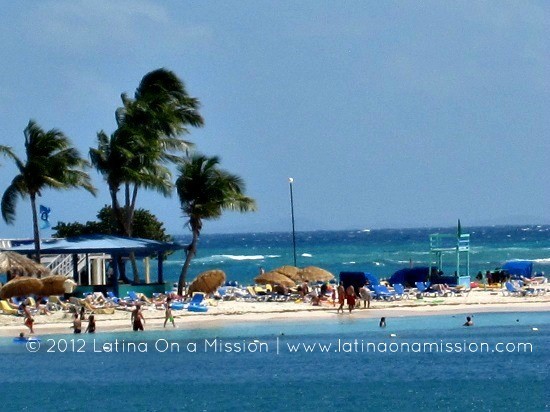 With summer in full gear, that means families are heading to the beach and pool.
Are you prepared?
Most parents and caregivers remember the suntan lotion, towels and beach balls, but forget the safety rules. I'm one of those who did. However, statistics scared me straight.
Water Safety At-A-Glance:
Each year, more than 3,400 people drown in the U.S., according to the Centers for Disease Control and Prevention (CDC)
More than one in five fatal drowning victims are children younger than 14
Drowning is the second-leading cause of injury-related death among children ages 1-14
Seven out of every 10 African-American and Hispanic children cannot swim, according to a national research study by USA Swimming and the University of Memphis.
African-American children drown at a rate nearly three times higher than their Caucasian peers (CDC) 
Below are 5 tips for parents and caretakers that Latina On a Mission received from the USA Swimming Foundation. These tips should help you keep children your children safe in and around water this summer.
Five Tips for Keeping Children Safe In and Around Water*
1.      Teach children to swim. It's the best way to be safer in the water. Research shows that parents are the most influential factors in whether or not a child learns to swim. Only 13 percent of children from non-swimming households will ever learn to swim, according to national research conducted by the University of Memphis for USA Swimming.
2.      Make sure a responsible adult is watching the water at all times. Drowning can be completely silent, and most child drownings occur when the victim has been out of sight for less than five minutes.
3.      Remind kids to always obey the rules of the pool, not to jump on or dunk other swimmers, and not to jump or dive unless they know how deep the water is.
4.      Require kids to always swim with a buddy.
5.      Remember, you don't have to be at a pool to drown. Lakes, rivers, large puddles and any other bodies of water also require caution. Make sure your child knows how to swim, whether or not they'll be around a pool this summer.
If you are looking for resources for families, including swimming lessons in your community that are low cost or even free, depending on your family's economic need, visit www.makeasplash.org.
Stay cool AND safe!
¡Abrazos!/ Hugs!
Let's talk! Do your children know how to swim? If so, how did they learn? Let us know in a comment!