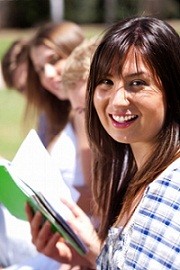 Education is the key that opens doors. As a result, I'm always on the look out for information that will help you and your families obtain the best educational opportunities possible.
I'm excited to announce that on June 29th, McDonald and LULAC National Educational Service Centers launches On the Track to College, a four-part bilingual educational webinar series. The live webinars will be presented in English and Spanish, and will be hosted by Mariela Dabbah, award-winning author and education expert. Being that the webinars are live, participants will also have the opportunity to ask their questions to our host and guest panelists.
The goal of the series is to provide students and their families with the motivation they need to get On the Track to College. Other webinars will focus on applying for college, financial aid and scholarships, etc.   
To join the first episode of the free bilingual webinar series "Latinos Rumbo al College", which is FREE. The first episode will air live on Friday, June 29th at 10:30 a.m. EDT/7:30 a.m. PDT. In this episode, the discussion will focus on:
Key information for parents and students who want to get on the college track
Practical tips for students on how to stay on the path to college by building a support network and being around other college-bound students
Click here to register for the free "On the Track to College" webinar.
For more information about McDonald's commitment to education visit www.MeEncanta.com or follow them on Twitter: @MeEncanta.
Psst, make sure you grab the HACER calendar from McDonald's Me Encanta website. It connects with your Facebook profile to keep you informed of important dates throughout high school, so you can prepare on your way to college.
Let's talk! Do you have a teen preparing for college? How are you finding the process?