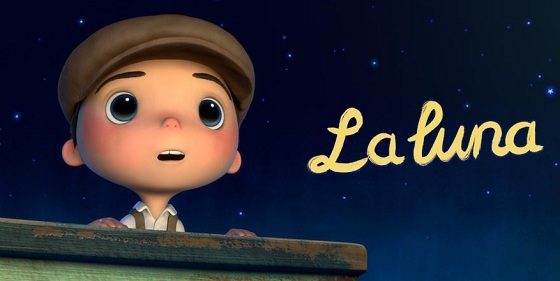 I love film shorts by Pixar, sometimes even more than the movies themselves! In less then ten minutes they convey a message of hope and fun, without saying a palabra/word. Definitely not an easy task to do, but they do it exceedingly well.
"La Luna", which means The Moon, was written and directed by Enrico Casarosa. It is one of Pixar's latest shorts and can be viewed before BRAVE . I loved the animation and the message conveyed. Perfect for boys, I think!
Synopsis
La Luna is the timeless fable of a young boy who is coming of age in the most peculiar of circumstances. Tonight is the very first time his Papa and Grandpa are taking him to work. In an old wooden boat they row far out to sea, and with no land in sight, they stop and wait. A big surprise is in store for the little boy as he discovers his family's most unusual line of work. Should he follow the example of his Papa, or his Grandpa? Or will he be able to find his own way?
Purchase Enrico Casarosa's picture book "La Luna" by clicking HERE.
You can see a clip of it below.
Purchase the picture book, La Luna by Enrico Casarosa, by clicking HERE.
Let's talk! Do you enjoy shorts before movies? Why or why not?
Discloure: By purchasing "La Luna" with the affiliate link above, you support Latina On a Mission at no cost to you! Mil gracias.