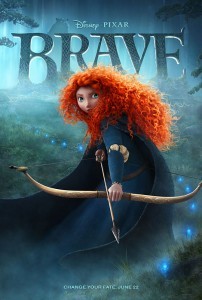 Recently my tween and I were invited to see BRAVE, the newest film by Disney and Pixar.
The movie rated PG started off with a heart warming scene between the mother, Queen Elinor (voice of Emma Thompson), and Princess Merida (voice of Kelly Macdonald). The scene quickly changes when Merida walks off into the forest.  Be forewarned, that scene caused quite a stir in the theater. Several younger children were frightened and cried; as a result, keep this in mind when viewing the first portion of the movie. Rest assured, the rest of the movie was funny, action packed, and heart-warming.
The movie follows Merida, the main character, as she strives to come out from under her mother's thumb. According to Queen Elinor, a princess must clean, must not chortle (defined as a "snorting, joyful laugh or chuckle" by thefreedictionary.com), and must always, always strive for perfection.  Merida rebelled. Can you blame her?
Merida's actions inadvertently unleash chaos and fury in the kingdom, and when she turns to an eccentric Witch (voice of Julie Walters) for help, she is granted an ill-fated wish. The ensuing chaos forces Merida to harness all of her skills and resources to undo a beastly curse placed on her mother before it's too late.
In the process, Merida's relationship with her mother is transformed, teaching her the true meaning of love and bravery, and shattering all thier preconceived notions. Will she be brave enough to see it? 
Will you?
Let's talk! Are you planning on seeing BRAVE this summer? Let us know in a comment!
______________________________________
Favorite BRAVE Quote:
"Our fate lies within us. You only have to be brave enough to see it."