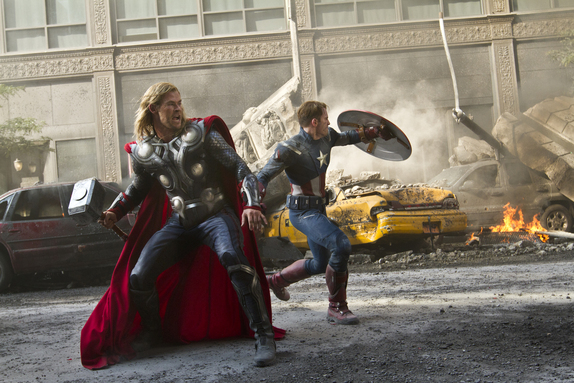 Marvel's The Avengers, set to open nationwide on May 4, 2012, includes the Super Hero team up of a lifetime, featuring iconic Marvel Super Heroes Iron Man, The Incredible Hulk, Thor, Captain America, Hawkeye and Black Widow. Their mission: to pull the world back from the brink of disaster when an unexpected enemy threatens global security.
Starring Robert Downey Jr., Chris Evans, Mark Ruffalo, Chris Hemsworth, Scarlett Johansson, Jeremy Renner and Samuel L. Jackson, and directed by Joss Whedon, "Marvel's The Avengers" is based on the ever-popular Marvel comic book series "The Avengers," first published in 1963.
Marvel is extremely talented when it comes to bringing comics to life. This was true for the Hulk, Captain America, and definitely with the Avengers.
Marvel's The Avengers characters hold true to their original identities and initial powers. Each featured character had time to shine, whether alone or as an Avenger. The movie also gave brief background information for each, just in case anyone was unfamiliar with the characters or the greatness of super heroism. However, I have to admit, I was disappointed that the full cast of Avengers comic book characters were not included. Although, this did not take away from the movie, I would have enjoyed seeing the missing characters.
The movie had many humorous moments that made you fall out of your seat, as well as scenes where the suspense grew so much it made you want to burst into tears. Yet, what I enjoyed most was Marvel's ability to keep that constant flow of intensity from beginning to end. There was never a dull moment.
It is indeed one of the most poetic movies I've ever seen. It was secretly a movie about self-exploration, the value of team work, and fighting for a common cause. Lines like, "… That cell was just in case you wanted to kill me. But you can't. I've tried" and "…If we can't protect the earth, we'll damn sure avenge it!" definitely gave the story depth, meaning, and even romanticized it a bit.
On another note, while HD works for every movie, 3-D not so much. The quality of the images were beautiful. The editing was amazing and the writing was absolutely fantastic. Undeniably one of the best movies of 2012 and is appropriate for all ages.
Movie review written by Nataja Flood