Are you ready to kick off your stilettos, kitten heels or chanclas/slippers? I hope so because Stiletto Media is hosting an ALL DAY  Twitter Party TODAY for those of you who weren't able to go to BlogHer in San Diego!
To join in the Kick Off Your Heels (#KOYH) Twitter Party you must follow the @StilettoChat and the Kick Off Your Heels sponsors listed below.
You can join in the all day Twitter Party fun by using the #KOYH hashtag and heading over to the Stiletto Media site to complete the Mandatory entry. Between 7-10pm PST  @StilettoChat will also be asking Twitter Party questions that you can answer, however, you can get extra entries throughout the day so go, go, GO!
Below are a few prize images. The complete list is on the Stiletto Media website. Click HERE to go to the Stiletto Media website.
¡Suerte! / Good luck!
One pair of CitySlips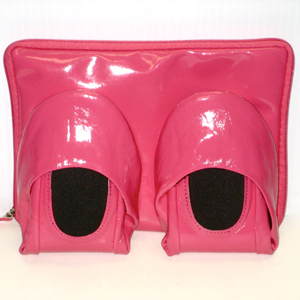 Saucy Mama gift basket ($150 giftbasket)
Go Red Boutique Mirror, Red Dress Broach and Red Dress T-shirt