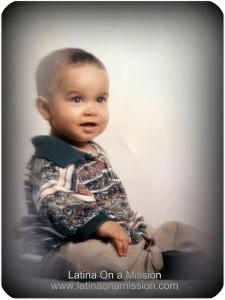 Today my man child turns 17. I can't believe time has flown so fast.
I never knew how wonderful, frustrating, exhilarating and annoying motherhood could be when I had him.
I so long to hold him and never let him go, which is so unlike me. When he was born, I refused to see or hold him. I admit, the first words out my mouth, when he was born was, "He's ugly!". I exclaimed these words as the Doctor pulled him out of my stomach.  He wasn't what I expected, the birthing experience wasn't what I expected. It was so unlike television births. It was too much. I was a single mother and extremely overwhelmed.
I had postpartum depression.
At the time I had no idea what that meant. I just knew being a mother was not as wonderful as other people said it was.  IT. WAS. HARD.
He didn't sleep at night which meant neither did I. I was extremely sleep deprived. I was also sad because of my break up, disappointed that I was not producing enough milk to breastfeed, and mourning the loss of my two cousins' babies. 
I should have been happy. Karl survived because of an emergency C-section. I knew this, but … I wasn't.  
I was in survival mode during the first six months of  his life. I did my duty as a mom. That was the best I could do at that time.
Eventually, that changed. I began to look at him with new eyes. How could it be that this little creature, this tiny being, was mine?  He had become my world, my reason for existing. I began to see the world differently. Friends didn't beckon me as they once did. Parties didn't either. I wanted to be around other mothers. I wanted to be a better mother, for him.
My teen changed my life for the better, as did my ten year old. They spur me, ignite my passion and are the reason I work so hard. I can't imagine my life without them, here by my side, and so I find myself in a dilemma…
I have one more year before my teen goes away to college.
I've prepared him for the world, but forgot to prepare myself.
Click here to read my letter to my sons or read about Karl's STRONG 16.
 

Spanish Version
Hoy mi hijo cumple 17 años. El tiempo ha volado.
Cuando tuve mi hijo, yo no sabía que siendo una mama iba ser tan maravillosa, frustrante, estimulante y molestoso.
Me encantaría abrazarlo y nunca dejarlo ir y eso no es comunión para mí. Cuando él nació, yo no quería verlo o aguantarlo. Yo admito, las primeras palabas que salieron de mi boca fueron, "¡Es feo!". Exclamé las palabras mientras la Doctora lo estaba sacando de mi estomago. El no era lo que yo esperaba, dando luz no era lo que yo esperaba. No era como los nacimientos de televisión. Mi situación era demasiado para mí. Yo era una madre soletera y mi situación me tenía abrumada.
Yo tenía la depresión posparto.
En el momento, yo no sabía lo que significaba eso. Yo sólo sabía que ser madre no era tan maravilloso como la gente decía que era. ERA. DIFICIL.
El no dormía por la noche y yo tampoco. Yo estaba súper cansada todo el tiempo. También estaba triste porque la relación no funciono con el papa, deprimida que no estaba produciendo suficiente leche para él, y todavía sufriendo los muertes de dos bebes de mis primas.
¡Yo debía está feliz! Karl vivió porque mi hicieron una cesárea. Yo sabía eso, pero… no me daba alegría.
Yo estaba en modo de supervivencia durante los primeros seis meses de la vida de él. Yo hice lo que tenía que ser como madre, pero nada más. En ese momento era lo único que podía ser.
Con tiempo, eso cambio. Yo empecé a mirar a mi hijo con nuevos ojos. ¿Cómo podía ser que esta criatura, este pequeño ser humano, era mío? El era en mi mundo, mi razón para vivir. Empecé a ver el mundo alrededor de nosotros con nuevos ojos. Mis amistades no eran tan importantes. Fiestas tampoco. Yo quería estar rodada con otras mamas. Yo quería ser una mejor madre, para él.
Mi hijo mayor cambió mi vida para mejor, al igual que mi hijo menor.
Ellos me estimulan, encienden la pasión para luchar adentro de mi alma y son la razón por la que trabajo tan duro. No puedo imaginar mi vida sin ellos, aquí a mi lado, y por lo tanto me encuentro en un dilema…
Tengo un año más antes de que mi hijo vaya a la universidad.
Lo prepare a él para el mundo, pero se me olvido que tenía que prepárame también.