It's Sabroso Saturday (Translation: Tasty Saturday)! The day when we share recipes that have helped us stretch our budget, our imagination and our taste buds, without sacrificing our health.
********************
Now that summer's out, I've fully stocked my cupboards with ingredients to make some grab and go treats for me and the kids. Its a great way to teach them how to get around the kitchen, while also helping me save some chabitos/pennies! I have to admit it's also a good way for me to get my sweets on without adding on the pounds.
The energy bars featured below are super easy to make. The recipe, another one by Bárbara Trujillo Gómez, is very simple. You don't need anything special to make these snack bars. The ingredients can be found in any supermarket. Best of all, you can double the recipe and take them along on family outings or leave them in the fridge for those moments when you just need something sweet!
Let me know what you think!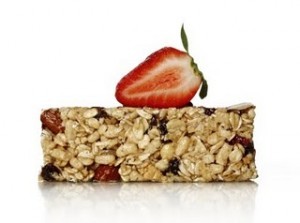 Grab 'n' Go Honey Strawberry Granola Energy Bars
Serves 6
Ingredients
• ⅔ cup of honey
• Cooking spray
• 1 egg white
• 2 cups old fashioned oats
• ⅓ cup of canola oil
• 1 tsp vanilla extract
• ½ cup coconut flakes
• 1 cup sugar-free strawberry preserves
Directions
1. Preheat oven to 375 degrees F.
2. Spray a 7 by 10 ¾-inch nonstick baking pan with cooking spray. Lay a piece of parchment paper over the pan big enough to allow excess paper to hang over the sides. Spray parchment paper lightly with cooking spray.
3. In a medium bowl beat the egg white until frothy.
4. Stir in oats, honey, oil, vanilla extract and coconut flakes. Mix well.
5. Set aside ⅓ of the mixture.
6. With a rubber spatula spread the remaining mixture into the prepared baking pan, pressing lightly to form an even layer. Bake for 10 minutes. Remove from oven.
7. Spread the preserves over the crust of granola and sprinkle the remaining oat mixture over the preserves.
8. Bake for an additional 15 minutes or until the preserve filling is bubbling on the edges.
9. Remove from the oven and allow to cool for at least one hour. Cut into squares and enjoy!
If you doubled the recipe, you can save the extras for later. Wrap them in parchment paper and store in the fridge. I am not sure how long they will keep because they don't last longer than a day or two in my home.  I'm guessing they should keep for at least a week.
Also, if you don't like strawberries you can substitute it with another fruit. You can also omit the coconut. My sons don't like coconut so I make the recipe without it. If you liked this receta/recipe, you can find other recetas/recipes by going to the honey site.
¡Buen provecho!
********************
Do you have a Sabroso Saturday recipe you would like to share? It's easy!
If you are a blogger, you can share a sabroso/tasty recipe you have posted this week on your blog by adding a DIRECT link to it below.
If you do not blog but have a Latinalicious recipe that you would like to share, shoot me an e-mail at MsLatina (AT) latinaonamission.com with "Sabroso Saturday" in the Subject line. If I am able to make it at home and my family enjoys it, I will feature it!
Readers can view linked-up recipes by clicking on their names below.
Enjoy & have a healthy Sabroso Saturday!