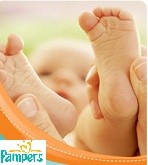 ~Giveaway Ended~
I was recently contacted by Pampers to host a giveaway on Latina On a Mission. The prize a $300 American Express Gift Card for a fun baby shower for one of my readers  or someone deserving within their community.
Although I am not receiving anything to host the giveaway,  I had to say YES!
I know what it is to be pregnant, without the means or know how. I was there. I didn't know what I needed. I couldn't afford it even if I did! That baby shower gave me the essentials so that I was prepared when my son arrived.
Pampers is now extending that same excitement to one of my readers with a  $300 American Express Gift Card to throw a fun baby shower for either themselves or someone deserving within their community.
Pampers is striving to give back to the community. Because of this it launched its Every Little Miracle and Miracle Missions Campaign not too long ago. As part of the Facebook Miracle Mission program (facebook.com/pampers) Pampers has taken its pay-it-forward campaign to a whole new level by giving baby showers to 1,000 moms across the U.S. After this giveaway, it will be 1,001!  ¡Wepa!
Pampers is not just stopping there. It wants to also give back to the Dads and has created another mission. Mission #2  helps give dads the time they need to bond with their baby. Just by running some of some of dad's errands, covering his late meeting at work or helping him out with some chores at home you can give him quality time with his little blessing. Pampers hopes to get 4,000 people to commit to help Dads. If they do, they will throw special Father's Day cook-outs for dads and babies through out the country! Can I get a "Woot Woot"?
So feel free to drop by their Facebook page. In fact, "Like" it and use it as one of your extra entries below!  Just don't forget to enter this giveaway you MUST complete the mandatory entry FIRST.
¡Suerte! / Good luck!
MANDATORY ENTRY- YOU MUST DO THIS BEFORE YOU CAN RECEIVE ANY EXTRA ENTRIES: 
Let me know what you would purchase with the $300 American Express Gift Card!
EXTRA ENTRIES – LEAVE A SEPARATE COMMENT FOR EACH ENTRY: 
1. Subscribe to my blog via email or feed, follow my blog publicly with Google Friends and/or "Like" Latina On a Mission's Facebook page for one (1) entry EACH. If you're already do, let me know! 
2. "Like" the Facebook Miracle Mission program (facebook.com/pampers) . Make sure you also tell them THANK YOU for @MsLatina of Latina on a Mission's giveaway or in Spanish, Gracias por el sorteo en el blog de @MsLatina de Latina On a Mission.  Once completed, leave a comment below with the URL and your Facebook name.  (2 EXTRA entries)
3. Follow @MsLatina on Twitter and tweet about the giveaway, stating the below. Provide me with the tweet URL in a comment. One tweet per day till the giveaway ends, so go ahead tweet away!
 Make a baby shower dream come true, enter to win a $300 Amex Gift Card! http://bit.ly/GW13a #Giveaway #MsLatina #baby
4. Blog about the giveaway, linking back to this post, and provide me with the url for two (2) extra entries.
5. Leave a comment on ANY other post for THREE (3) extra entries. Each comment must have been posted after June 9, 2011. Let me know you did so in the comments below.
6. Share this post or another on Stumble Upon, Technorati, Digg, and/or Facebook.  Each post shared gives you 3 extra entries. Just let me know which post you shared and your username, if applicable!
********************
Giveaway ends July 2, 2011 at 11:59 P.M. EST
Open to US residents
********************
As always, I will use random.org to select the winner. The winner will have 7 days to respond or another winner will be selected. Also, don't forget, in order for random.org to count all of your entries a separate comment must be entered for each item that is completed. Random.org will not count it otherwise.
Winner's will be announced on the Giveaway Winners page.