I love Twitter! It's a great way to find out about great events, fashion freebies and so much more.
Today I saw the below tweet and just had to share.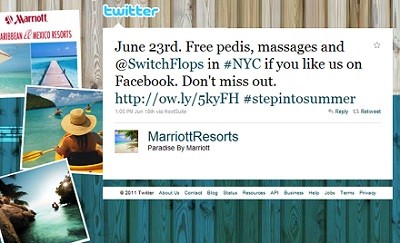 I plan on going myself. Who can resist free a free pedicure, free massage and free SwitchFlops? These interchangeable flip flops are so adorable and much better than the ones they give you at the Spa!
To attend, just like the Marriott Resorts Caribbean and Mexico Facebook page and print out your event ticket!
Also, let me know in a comment if you're attending, maybe we can do a tweet-up

Enjoy and don't forget to stash that extra ca$h!
Don't miss out on future Chic & Cheap posts.
Subscribe!
Have questions about something found within this post?
Read my Disclosure Policy.