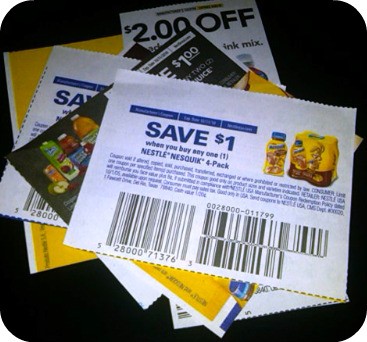 With the new Extreme Couponing show on TLC, there been renewed interest in couponing. If you aren't sure where to start read on!
If you're swamped for time, you can shop online using coupon sites, like Ebates, which pays you a small percentage every time you make a purchase on their site.  Right now you can get a $10 Gift Card to Target, Barnes & Noble, or a slew of other stores as a bonus! Click here to join Ebates.
Going to a brick and mortar store? Use coupon.com, which updates their coupons regularly, or sign up at Eversave to receive coupons, free samples and gift card giveaways.
Also make sure you check your local Sunday paper for printable coupons.  Want to find out what coupons are coming out before they're available? Check out Sunday Coupon Preview.
You can also use Cellfire coupons. They add coupons directly to your store card! This way you never forget AND you do not have to clip and present coupons at the store.
Lastly, although not a coupon site, I really like ReadySetEat.com, a recipe website that offers quick and easy recipe ideas that take less than 30 minutes from start to finish. Along with the recipes, ReadySetEat.com lets you know if any of the ingredients used in the recipe are on sale, the store where it's on sale, the discounted amount and even provides coupons when applicable!
These are just some of the resources I use to obtain my coupons. Do you use any other sites?  Let us know in a comment!
To get you started click here for $5-$10 in Kellogg's coupons!