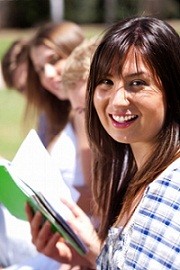 As a mother of a teen I'm always on the lookout for exciting internship opportunities for my son. They provide him with a glimpse of what the world has to offer, while also giving him a brief look into a variety of fields. As my Mami always used to say, ¿Cómo vas a saber lo que el mundo tiene que ofrece si no lo intenta? (Translation: How are you going to know what the world has to offer if you don't try it?)
She was right!
The Teen internship offered by the Apollo will offer a behind-the-scenes look at careers in the performing arts and entertainment industries. Interns will work from Monday through Friday for 7 hours. The program is set to start on July 5 through August 12, 2011. Not only will the selected teens have an opportunity to work with trendsetters in the entertainment field but they will also get PAID a stipend. NOTE: Interns are responsible for their own meals and transportation.
Applications are due Friday, May 20, 2011 so avansa/hurry!
Click here for more information or to request an application to the Teen Internship at the Apollo.