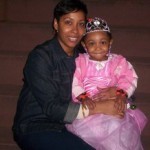 Earlier this week I had the opportunity to speak to a very inspirational woman, Bernice Malone. She's a Mom who works full time, runs a small business called Dazzle Divaz, and, as if she wasn't doing enough, has started a project called Brooklyn Prom & Scholarship Project that donates prom dresses and tuxedos to high school seniors!
During our telephone conversation, Ms. Malone noted this is the second year she has headed the Brooklyn Prom & Scholarship Project. Her enthusiasm for the project is evident. She's gathered several hundred dresses and a few tuxedos as well. She's also collected accessories, beauty supplies and shoes to outfit teens who may not have the means to purchase their own prom attire. Because she is doing most of the work herself, she does not have the funds to pay for storage; as a result her home had become the headquarters. Yet living with the chaos brings her glee. She knows she is doing it for a worthwhile cause…our children.
Ms. Malone will distribute the dresses this Saturday, May 14, 2011. To find out more information about the event, please contact Bernice Malone via email at brooklynprom@aol.com.  She is very responsive and will try to get back to you as quickly as possible. If you are unable to attend the event, feel free to ask her about another FREE prom dress giveaway being held on May 21, 2011.
If you wish to donate to the cause or volunteer your services, please feel free to reach out to her as well!
¡Besos!/Kisses!