It's Sabroso Saturday (Translation: Tasty Saturday)! The day when we share recipes that have helped us stretch our budget, our imagination and our taste buds, without sacrificing our health.
********************
In the summertime, my Mami would always get a break from cooking when we went to City Island. City Island was known among Latinos in the Bronx as the place to go for surprisingly tasty and cheap seafood. It holds some of my fondest memories of not just food, but of family outings, including my mother and my first date with my stepfather, Mario.
I was 4 years old and it was the first time I had ever gone to a "classy" restaurant. My mother and I dressed up for our outing with bell bottoms and polyester shirts. I have to say we looked stylish! Mario was equally impressed when he pulled up in his white Cadillac and whistled. Oh how I loved that car and man! As they whispered sweet nothings to each other, I sang my tiny little heart out in the backseat. At one point, I can even recall grabbing the driver's backrest to get closer to Mario's ear. He said I was the best singer EVER.  After hearing that, I didn't want to disappoint him and sang even louder! The poor man had the patience of a saint and just laughed!
I fell in love with my stepfather that day, as did my Mom. In his eyes, we were Queens; as a result, we became Queens.
Although I didn't have my first taste of seafood till many years later, it was in City Island that I first saw and smelled the exotic aroma of seafood.
To this day, when I make a seafood dish,  it conjures up memories of those long ago days and my beloved Daddy, Mario. Days spent by the  City Island pier chasing geese or great white egrets, with my older brother, while my Mami and Daddy snuggled in the car or he playfully chased them with us. He may have passed away but  those moments will forever remain a part of me, brought to mind each and every time I create a seafood dish or visit the water.
I may not be able to share him with my sons, but I can share his love of food, particularly seafood. And I do. Each and every time, I  lovingly create a dish, I share a memory. So today, I share a dish that is not only tasty but makes you feel as if summer is right around the corner.  As you create the dish and savour the tilapia, may you also enjoy its simplicity and the carefree moments its conjures!
Till next week, eat hearty, eat healthy and eat well.
¡Buen provecho!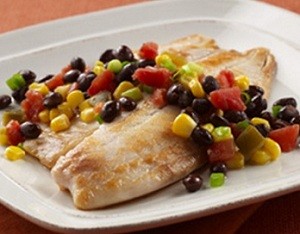 Tilapia with Black Beans and Corn
Serving Size 4 servings (1 topped fillet each)
Calories 274
Ingredients
1 can (15 oz each) Rosarita® Premium Whole Black Beans, drained, rinsed
1 can (10 oz each) Ro*Tel® Original Diced Tomatoes & Green Chilies, drained
1 cup frozen whole kernel corn
1/3 cup sliced green onions
2 tablespoons Pure Wesson® Vegetable Oil
1 tablespoon cider vinegar
PAM® Original No-Stick Cooking Spray
4 tilapia fillets, thawed if frozen (4 fillets = 1 lb)
1/4 teaspoon salt
Cooking directions can be found at the ReadySetEat website by clicking HERE.
********************
Do you have a Sabroso Saturday recipe you would like to share?  It's easy!
If you are a blogger,  you can share a sabroso/tasty recipe you have posted this week on your blog by adding a DIRECT  link to it below.
If you do not blog but have a Latinalicious recipe that you would like to share, shoot me an e-mail at MsLatina (AT) latinaonamission.com with "Sabroso Saturday" in the Subject line. If I am able to make it at home and my family enjoys it, I will feature it!   
Readers can view linked-up recipes by clicking on their names below.
Enjoy & have a healthy Sabroso Saturday!