It's Sabroso Saturday (Translation: Tasty Saturday)! The day when we share recipes that have helped us stretch our budget, our imagination and our taste buds, without sacrificing our health!
********************
This week I made Spiced Chicken Breasts with Glazed Cinnamon Apples.  I discovered it in the Go Red "Recipes for the Heart" recipe book.
The recipe was fairly simple. I'm guessing it took about 30 minutes to prepare from start to finish. I'm sure it would have taken less if I would have purchased pre-cut skinless chicken and prepackaged sliced apples; however, it would also have cost me more money to shave off 10 minutes and that just didn't seem worth it to me.
The recipe was fun to make. I had the boys help me cut and core the apples, which means I didn't get 6 wedges per apple. Some went into their mouths instead 

Also, I normally cover the meats I bake, to make sure that they cook well and the flavor sinks in; however, when I covered this dish I found it made it soggy. I broiled it afterwards to give it a crunchier taste but believe it would have come out better if I had left the dish uncovered. The boys liked the chicken but I still feel it would have tasted better if I had left the dish uncovered. When I do I'll make sure  to note an update and our reaction!
In the meantime, I noted the recipe below for you. Let me know if you make it and what you think.
¡Buen provecho!
Spiced Chicken Breats with Glazed Cinnamon Apples
Serves 4: 3 ounces chicken and 6 apple wedges per serving
Ingredients
Cooking Spray (I use Pam)
2 tablespoons firmly packed light brown sugar
1/4 cup firmly packed light brown sugar
1/2 teaspoon ground coriander (I didn't use any)
1/4 teaspoon salt and 1/4 teaspoon salt, divided use
1/4 teaspoon pepper
4 boneless, skinless chicken breast halves (about 4 ounces)
1 1/2 teaspoon canola or corn oil
1 tablespoon canola or corn oil
1 tablespoon fresh lemon juice
4 medium apples – peeled, cored and each cut into 6 wedges
Preparation
Preheat oven to 400°. Spray baking pan with Pam. Set aside.
In a small bowl, stir together 2 tablespoons brown sugar, 1/2 teaspoon cinnamon, the coriander, 1/4 teaspoon salt, and the pepper. Sprinkle over both sides of the chicken. Using your fingertips, gently press the mixture so it adheres to the chicken. Transfer the chicken to the pan. Brush the top of the chicken with 1 1/2 teaspoons oil. Set aside.
In a large bowl, stir together the lemon juice, remaining 1/4 cup brown sugar, remaining 1/2 teaspoon cinnamon, remaining 1/4 teaspoon salt and remaining 1 tablespoon oil. Add the apples, turning to coat. Place around the chicken.
Bake for 20 minutes, or until the chicken is no longer pink in the center. Remove the pan from the oven. Leaving the oven on and the apples and pan juice in the pan, transfer the chicken to the center of a platter. Cover the platter to keep warm.
Using a spatula, turn the apples to coat with the pan juices. Return the apples to the oven.
Bake for 5 minutes or until the apples are browned and tender and the pan juices have created a glaze. Spoon around the chicken.
Tadaaaaa below is my end result.
Have a virtual bite. It's sabroso!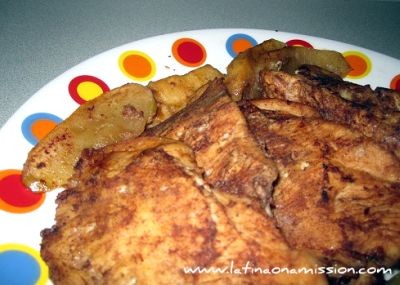 According to the book, this dish has the following nutrients per serving: Calories: 335; Total Fat 8.5 g; Saturated fat 1.0 g.;  Trans Fate 0 g.; Polyunsaturated Fat 2.0 g; Monounsaturated Fat 4.0 g; Cholesterol 73 mg; Sodium 428 mg; Carbohydrates 42 g.; Fiber 3 g.; Sugars 37 g.; Protein 25 g.; Dietary Exchanges: 1 1/2 fruit; 1 1.2 other carbohydrates; 3 Lean meat
********************
Do you have a Sabroso Saturday recipe you would like to share?  It's easy!
If you are a blogger,  you can share a sabroso/tasty recipe you have posted this week on your blog by adding a DIRECT  link to it below.
If you do not blog but have a Latinalicious recipe that you would like to share, shoot me an e-mail at MsLatina (AT) latinaonamission.com with "Sabroso Saturday" in the Subject line. If I am able to make it at home and my family enjoys it, I will feature it!   
Readers can view linked-up recipes by clicking on their names below.
Enjoy & have a healthy Sabroso Saturday!