It's Sabroso Saturday (Translation: Tasty Saturday)! The day when we share recipes that have helped us stretch our budget, our imagination and our taste buds, without sacrificing our health!
********************
This past week was a hard one. I had to rush my Mom to emergency, my 9 year old missed 2 days of school, my teen and I bickered, and even my puppy acted up by chewing through my brand new rug. Life happens, I know. I normally roll with the punches but this week was harder. This week I had no time to cook.
On the good days, my teen cooked. He came to my site, searched through recipes and made the  Cinnamon Yogurt Muffins and Budget Friendly Meatballs. On the bad days, we ate on the fly, grabbing fast food as we rushed to and from doctors. It was a mess. I was a mess.
Today is different. I've decide to remove some of my stress and prepare some simple recipes ahead of time. I'm making three recipes with ground turkey: 
For the 2 meatless days, I will make a savory egg white omelet and Salmon with Pineapple Salsa.  Over the weekend, we take turns hosting or visiting family/friends sharing  good times and sabroso/savory dishes.  
In my mind, meal planning is love stockpiled, waiting to be used and savored as needed. 

Do you plan or cook your meals ahead of time? What works best for you? Share your ideas!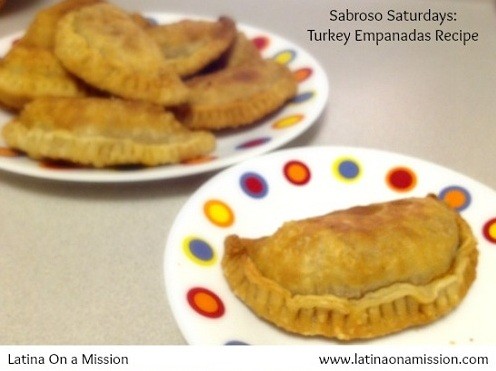 Turkey Empanadas
1 lb ground turkey
1/2 a small onion, diced
1/2 cup diced green or red bell pepper
1 tsp. dried oregano
2 tsps. garlic powder
1 tsp. salt
½ tsp. black pepper
1 envelope of Sazón with achiote
1 – 8 oz. can tomato sauce
1 package of Frozen Empanada Dough  ( I use the Goya Discos since those are the ones they sell by me but you can use any kind.)
Preparation of Meat
Brown the ground turkey in a small pan with water.
Add onion, bell pepper, oregano, garlic, salt, pepper, Sazón with achiote, and tomato sauce.
Cover pan and continue boiling on medium flame for approximately 20 minutes, stirring occasionally.
Uncover pan. Continue to boil the meat for another 15 minutes or until cooked.
Preparation of Empanadas
Preheat oven to 400°.
Add about one tablespoon of meat to the center of one thawed disc.
Fold the disc in half, bringing the ends together.
Using a fork, mash/pinch the ends together so that the meat does not spill out. Repeat the same with all the discs.
Spray oven pan with Pam and place filled discs inside. Bake for approximately 20 minutes or until browned.
¡Buen provecho!
********************
Do you have a Sabroso Saturday recipe you would like to share?  It's easy!
If you are a blogger,  you can share a sabroso/tasty recipe you have posted this week on your blog by adding a DIRECT  link to it below.
If you do not blog but have a Latinalicious recipe that you would like to share, shoot me an e-mail at MsLatina (AT) latinaonamission.com with "Sabroso Saturday" in the Subject line. If I am able to make it at home and my family enjoys it, I will feature it!   
Readers can view linked-up recipes by clicking on their names below.
Enjoy & have a healthy Sabroso Saturday!