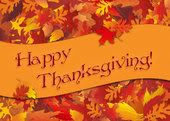 Happy Thanksgiving! I want to continue my real life tradition virtually by posting the top ten things I am grateful for, in no particular order,  on my blog. 
1. First and foremost, I am thankful to have found God. Without Him my family's life would have been extremely different from what it is today. Thank you Lord for your abounding mercy and grace!
2. I am thankful for my sons. Their arrivals changed my life in so many ways, more than I can name in just one post!
3. I am thankful that this year I will be getting more action than last year, courtesy of the TSA.
4. Last year I was thankful that cousin T was given more time with the family. This year I am thankful for having had the opportunity to see selflessness in action. Watching my cousin donate her kidney to her husband, cousin T,  was one of the most inspiring acts I've witnessed!
5. I am thankful for my blog, my readers, those who comment and even those who don't (I see you lurking!), as well as the wonderful PR and brands I've been able to work with. You've made my social media journey more memorable than you realize!
6. I am thankful for the George Foreman Grill and Smart Kitchen Multicooker I received for review! Those suckers work wonders in the kitchen! (Stay tuned for the giveaway!)
7. I am grateful I learned how to make a Frappuccino at home. It saves me money, puts pep in my step AND makes me laugh all day long, literally! Go check out the Frappuccino video.  

8. I am thankful to have been given the opportunity to start an amazing venture with vision and  leave a job that had run its course.
9. I am thankful for my laundry service. If not for them, my boys would NEVER have clean clothes!
10. And last but not least, I am thankful to have discovered Damn You Autocorrect!. It never fails to have me LOL!
What are you giving thanks for this year? Leave a comment and let us know!
Abrazos ~ Hugs!