As promised, with the holiday season fast approaching, I will be featuring products that I hope are not only Chic but also Cheap. 
This week's feature is a technological find that's perfect for those who crave great connectivity that doesn't sacrifice their home's style. 
The below charging station is cleverly disguised as a piece of grassy turf. This deco item will charge your electronics, camera, phone, mp3, iPod and more, while keeping cords hidden underneath the grassy top. Set it on a table, in a corner, or on a windowsill and no one will be the wiser. Now that's turf-iffic!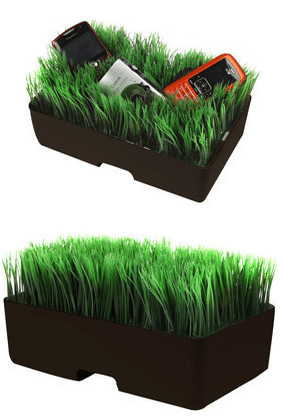 At $24.99, this charging station be the one unforgettable gift that won't break your piggy bank!  To purchase go to www.ModCloth.com
and enter Electric Garden Charging Station in the Search box. 
What do you think? Is it Chic AND Cheap?
Let us know in a comment! 
Happy Friday! Have a chic-filled day!
Don't miss out on future Chic & Cheap posts.
Subscribe!
Have questions about something found within this post?
Read my Disclosure Policy.