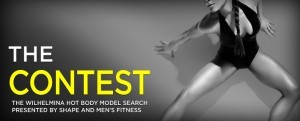 Wilhelmina, a model management company, has partnered  Shape Magazine and Men's Fitness to find the hottest bodies of the year! 
The Wilhelmina Hot Body Model Search is open to men and women who are legal residents of the 50 United States and the District of Columbia (void where prohibited) and who are 18 years of age or older as of November 17, 2010; no height or size restrictions. Subject to official rules.
The search was initially launched  on August 9, 2010 and ends on November 17, 2010. There are three ways to enter:
Enter in person by attending an open call event
Enter by mail
Each requires the entrants to submit the following:
a completed Official Entry Form
one (1) recent full body shot photo
$20 non-refundable processing fee
The Open Call Events are scheduled as follows:
October 16: New York, NY
October 23: Austin, TX and Columbus, OH
October 24: Philadelphia, PA
November 7: Miami Beach, FL
If you do not have a photo during the Open Call Event, you can have one taken at the event at NO CHARGE. Open Call entrants also have the chance to meet the Wilhelmina agents, as well as Shape and Men's Fitness representatives. They will also enjoy sponsored activities throughout the day and receive a gift bag filled with sponsor product samples. 
Click HERE for the Casting Call Event Addresses and to RSVP.
Click HERE to read more about the Wilhelmina Hot Body Model Search.
Suerte! / Good luck!