Let me begin this post by saying, "We are not at Disney."
Everything that could have went wrong did. My sons'  couldn't find their last minute items, the taxi got stuck behind an unloading truck in midtown Manhattan, and when I went to print out our tickets, I was told to see the agent. I should have known something was off when I read that, but ever the optimist, I didn't. I was taken completely by surprise.
The ticket agent told me we could not board our flight. Our seats had been given to someone else. She stated she would try to accommodate us on another flight.
Perhaps a connecting flight?
"Sure", I stated.
I can't place you on the same flight. Your sons can go on one flight and you can go on another. You would be going to different states but would meet in Orlando. However, you will have to pay an additional $100 fee per unaccompanied child.
"No", I said very calmly, "I am not sending my sons on another flight. If they are stuck in another state I won't be there to help them. We have to go together."
She checked and checked some more. She could not find any flight with 3 seats for that day. Wait, let me rephrase that. She said she could not find any flight that could accommodate us that was leaving within the next 3 hours. Why 3 hours? It seems they have a freaking rule that states it must be within 3 hours, if not you have to wait and possibly loose the empty seats on a later flight, which we did.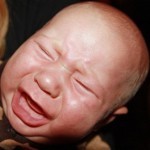 I begged, cried and screamed. I felt like the "The New Adventures of Old Christine" when she lost her mojo!  I couldn't get anywhere with those people!
In the end, the flight that I was able to secure would have cost me an additional $1,400+, bringing the cost of my sons' tickets to more than $2,000. It just wasn't feasible. 
My sons were extremely disappointed so I am trying to make it up to them this weekend. I'm unplugged and we're acting like NYC tourists. Its not the same as Disney, but they're making the best of it.
What are you doing this weekend?
Crying Baby Image taken by Maggie Smith / FreeDigitalPhotos.net