It's Sabroso Saturday (Translation: Tasty Saturday)!  The day when we share recipes that have helped us stretch our budget, our imagination and our taste buds, without sacrificing our health!
********************
This week I am noting an Argentinean Beef Stew recipe I discovered eleven years ago in a Land O'Lakes recipe collection. My sons have grown up with it and love the sabor/taste, while I love that its low in calories.  Its also extremely simple and quick to make.  Overall, its a scrumptious win-win for all!
Argentinean Beef Stew
1 tablespoon Land O Lakes Garlic butter with Olive Oil
3/4 pound beef top round, 1/2 inch thick, cut into 1 inch cubes
1 medium (1/2 cup) carrot, chopped
1 small (1 1/2 cups) butternut squash, peeled, cut into 1/2-inch cubes
6 dried peaches, quartered
1 can (14 1/2 ounce) beef broth
1 can (7 ounce) can whole kernel corn, drained
1 teaspoon dried oregano leaves
 1/2 teaspoon salt
2 tablespoons chopped fresh parsley
In 2 quart saucepan melt butter until sizzling; add beef cubes. Cook over medium high heat, stirring occasionally, until browned- about 3-4 minutes.
Add all remaining ingredients EXCEPT parsley.
Continue cooking until mixture comes to a boil, about 3-4 minutes.
Reduce heat to medium. Cover, cookm stirring occasionally, until beef and vegetables are tender (14 – 16 minutes)
Stir in parsley.
You can eat the Argentinean Beef stew alone or over rice, with a side salad!
¡Buen provecho!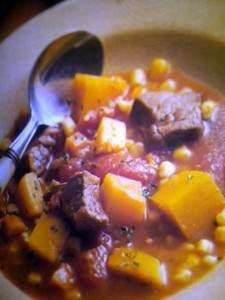 ********************
Do you have a Sabroso Saturday recipe you would like to share?  It's easy!
If you are a blogger,  you can share any sabroso/tasty recipe you have posted this week on your blog by adding a DIRECT  link to it below.
If you do not blog but have a Latinalicious recipe that you would like to share, shoot me an e-mail at MsLatina (AT) latinaonamission.com with "Sabroso Saturday" in the Subject line. If I am able to make it at home and my family enjoys it, I will feature it!   
Readers can view linked-up recipes by clicking on the recipe names below.
Enjoy & have a healthy Sabroso Saturday!