As a mother of boys, I sometimes wonder if a huge joke was somehow played on me. I've never been into sports. I don't know a fly ball from a pop up!
Its a running joke between my boys, that I run like a girl, catch like a girl and throw like a girl. You would think they would see the obvious – Duh! Mom is a girl! – but that always seems  to escape them. 
Lately, I have been feeling more inclined to learn more about baseball and have actually started reading the *GASP* Sports pages. I still don't understand much but at least now I can memorize a few choice sentences and appear like I know more than I do. Sneaky, I know … but in my defense, the boys are so impressed!
Now imagine… two sets of eyes opening in amazement as Mom  pulls out a pair of "official" Franklin Baseball batting gloves. But wait it gets better! Imagine Mom using the batting gloves and hitting a homerun! Woot! Did you hear that?! It was their jaws dropping in amazement! I would finally be the "cool" baseball Queen!  Bwahahaha
Now imagine yourself with a pair of these same gloves. What?! You can't imagine it you say?! Well that's probably because you haven't entered my ONE DAY giveaway yet!
Read on for details!
GIVEAWAY PRIZE:
A pair of Franklin Baseball batting gloves.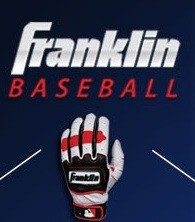 MANDATORY ENTRY- YOU MUST DO THIS BEFORE YOU CAN RECEIVE ANY EXTRA ENTRIES:
Fan Franklin Baseball on Facebook: http://www.facebook.com/FranklinSports  and leave a comment on their page stating Latina On a Mission sent you!
EXTRA ENTRIES – LEAVE A SEPARATE COMMENT FOR EACH ENTRY:
1. Follow my blog with Google Friends and/or "Like" my Facebook page for 1 entry EACH. If you're already do, let me know!
2. Tweet about the giveaway, stating the below. Provide me with the tweet url in a comment. One tweet per day till giveaway ends.
Enter to win a pair of Franklin Baseball batting gloves!  http://tiny.cc/GW41 #GIVEAWAY #MsLatina #Baseball
3.  Complete my survey for 3 extra entries. Click here to begin: Reader Survey.
**********
GIVEAWAY ENDS October 6, 2010 at 11:59 P.M. EST
Open to US residents only
**********
As always, I will use random.org to select the winner. The winner must respond by the specified time or another winner will be selected. Also, don't forget, in order for random.org to count all of your entries a separate comment must be entered for each item that is completed. Random.org will not count it otherwise.
Franklin is currently hosting a fan challenge to reach 10,000 Facebook Fans by October 6, 2010.
As an incentive/prize for reaching the 10,000 fans they will be giving away a pair of playoff tickets to one lucky Franklin Baseball fan. Fans will get the chance to enter to win these tickets through Facebook.
In addition to the pair of playoff tickets, ALL Franklin facebook fans will get a special promo code for 25% off in the Franklin Sports online store.
Disclosure: I will receive the same prize being given away.