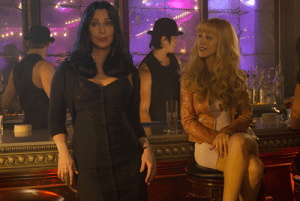 Christina Aquilera and Cher (love them both!) have teamed up with a few other well known actors to create Burlesque, a musical romantic movie set in Los Angeles.
The movie, which is not yet rated, is set to open nationwide on November 24, 2010; however, to celebrate the opening of  Burlesque, Sony Pictures, MTV and Z100 are looking for the best dancers in New York City!
The winner of the New York MTV Burlesque Dance contest will win $300 and VIP seating at the advance screening of BURLESQUE for them and 10 friends. They will also have a chance at the $5,000 national grand prize and may get their performance featured on MTV! 
The contest is open to dancers between the ages of 13-30. Below I have noted the contest date and time. 
DATE: Friday, October 22
TIME: 5:00PM  – 7:00 PM  Note, Priority Registration for Pre-Registered Participants Begins at 4:00 p.m.
ADDRESS: JCPenney at 33rd and 6th, New York, NY 10001
I copied and pasted rules and judging details below.
Contest is open to amateur dancers only, between the ages of 13-30,
Individuals only, no groups or teams.
Each dancer will have one minute and MUST perform an original routine to the song posted on burlesque.mtv.com
All forms of dance are welcome: lyrical, hip-hop, freestyle, ballet – you name it!
Dress code and performance must be family friendly.
Judging:
Performances will be judged by a panel of judges based on:
Originality
Style
Execution
To find out more details about the New York dance contest click HERE
Dancers will also be able to enter the contest in the cities listed below.
Atlanta
Boston
Chicago
Cleveland
Dallas
Detroit
Denver
Houston
Las Vegas
Los Angeles
Minneapolis
New York
Philadelphia
Phoenix
San Diego
San Francisco
Seattle
St. Louis
Washington, DC
West Palm Beach
For info on these additional states click HERE.
You can also see the official Burlesque trailer below.
Do you plan on seeing this movie when it opens? Let me know in a comment!