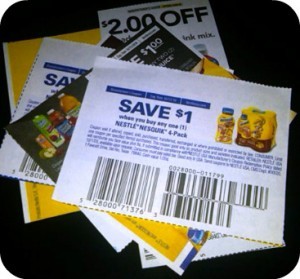 September is my favorite month because it's coupon month, the month when most companies give discounts. Yet it seems that many do not take advantage of the coupons that are distributed.   
In New York City there is a misconception about coupons, particularly among minorities. From talks with friends, co-workers and yes, even strangers, I've gleaned that many believe coupons are synonomous with poverty. They are ashamed to use printable coupons for things they normally purchase because of this stigma. However, from my observations,  most of the people that did NOT use coupons are in debt and have very little savings to fall back on, while those who did were able to maximize their savings.
What's the stigma?
This is the age old question. If you're a non-coupon clipper, this is the question you need to answer. Is it shame? Does it conjour up feelings of inadequecy? I found that addressing these questions helped me get on track with my savings and coupon clipping.
I once believed that others would pass judgement on me for using coupons. I've since learned that their judgements do NOT affect my bank account. Coupons do.
How can I start?
There are many sites explaining coupon clipping, each providing various ways that have been tested by the writer. Some find that they are able to score the best deals online, while others prefer going to a brick and mortar store. They are all right and all wrong. Their system worked for them, making it right. However, if you cannot follow their system, it will be wrong for you. Ultimately, the right way to use coupons is based on your particular lifestyle.
Example: I shop online because it facilitates my coupon use.  It saves me time and money. As a single mom, I do not have enough hours in a day to chase after bargains. If I tried to do it, I would have no time for myself.  I also find that chasing a dollar can cost me more on transportation, thereby negating my coupon savings.
The number one thing I can suggest is know yourself.
Coupons to Fit Your Style
Are you swamped for time? Shop online using coupon sites, like Ebates, which gives you a commision from your purchases. In fact, right now you can get up to 25% cash back at Ebates.
Going to a brick and mortar store? Use coupon.com, which updates their coupons regularly, or sign up at coolsavings.com to receive coupons and free samples.
Do you forget your coupons when shopping? Use Cellfire coupons and have them added to your store card! This way you never forget AND you do not have to clip and present coupons at the store.
Want to find out what coupons are coming out before they are available? Check out Sunday Coupon Preview.
These are just some coupon sites that I think are worthwhile. Do you use any other sites? Let me know in a comment!