SECRETARIAT, a family friendly movie, created by Walt Disney Motion Picture, is set to open nationwide on October 8th. 
Based on the remarkable true story, "Secretariat" chronicles the spectacular journey of the 1973 Triple Crown winner. Housewife and mother Penny Chenery(Diane Lane) agrees to take over her ailing father's Virginia-based Meadow Stables, despite her lack of horse-racing knowledge. Against all odds, Chenery—with the help of veteran trainer Lucien Laurin (John Malkovich)—manages to navigate the male-dominated business, ultimately fostering the first Triple Crown winner in 25 years and what may be the greatest racehorse of all time.
Director Randall Wallace, who is the Oscar and Golden Globe nominated screenwriter of "Braveheart," made sure that Penny Chenery, now 87, was an integral resource in the making of the film. In fact, she also appears as an extra in one of the film's scenes so make sure you keep an eye out for her!
You can view the SECRETARIAT trailer below.
Unfortunately, I was unable to see the private screening that was offered during BlogHer, however, after viewing the trailer, I know I will make it a point to see it in theaters!  Since its a true story, I already know how it turns out. What I don't know is how Penny Chenery overcame the countless obstacles she faced. It was the 70s, women were just beginning to come into themselves. They were still not given the recognition they deserved in the workforce, much less in a male dominated arena.  Penny Chenery is an inspiration. She defied the odds, bucking society's norm. She was not limited by what others stated she should be. She may have been scared, even terrified at times, but she continued on, overcoming  barriers to rise above the rest and win…now THAT is inspiring.
Although I was not able to attend the screening, I was given the opportunity to spread the word and host a  Latinalicious giveaway that will give ONE reader the Men's T-Shirt, Women's T-Shirt, Youth T-Shirt and Hat shown below.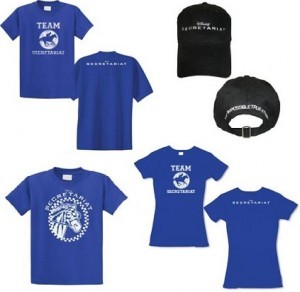 Good luck! / ¡Suerte!
MANDATORY ENTRY- YOU MUST DO THIS BEFORE YOU CAN RECEIVE ANY EXTRA ENTRIES:
Leave a comment letting me what you think about the movie!
NOTE: You must be an e-mail subscriber to enter. Click HERE to subscribe.
EXTRA ENTRIES – LEAVE A SEPARATE COMMENT FOR EACH ENTRY:
1. Follow my blog with Google Friends and/or "Like" my Facebook page for 1 entry EACH. If you're already do, let me know!
2. Follow @MsLatinaon Twitter and tweet about the giveaway, stating the below. Provide me with the tweet url in a comment. One tweet per day till the giveaway ends, so go ahead tweet away!
Enter the SECRETARIAT Promotional Giveaway to win T-shirts & more!  http://tiny.cc/GW38 #GIVEAWAY #MsLatina #movies
3.  Fan SECRETARIAT on Facebook: http://www.facebook.com/secretariat. Leave a comment on their page stating  you heard about the film on Latina On a Mission for 1 extra entry.
4.  Complete my survey for 3 extra entries. Click here to begin: Reader Survey.
**********
GIVEAWAY ENDS October 8, 2010 at 3:00 P.M. EST
Open to US residents only
**********
As always, I will use random.org to select the winner. The winner will have 48 hours to respond or another winner will be selected. Also, don't forget, in order for random.org to count all of your entries a separate comment must be entered for each item that is completed. Random.org will not count it otherwise 
Disclosure: I did not receive any compensation to host said giveaway.