It's Sabroso Saturday (Translation: Tasty Saturday)!
The day when we share recipes that have helped us stretch our budget, our imagination and/or our taste buds. Recipes that have been tested and approved by YOU.
So link up and share those savory, satisfying, succulent, ¡Sabroso! recipes. Be sure to also visit the other participants!
¡Buen provecho!
********************
This week I noted an easy Piña Colada Frozen Dessert recipe I learned at the Betty Crocker Kitchen in Minnesota. The perfect dessert if you want to extend your summer.
It's summer in a bite and the perfect dessert for a romantic candle light dinner.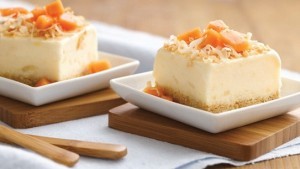 Piña Colada Frozen Dessert
1 1/4 cups graham cracker crumbs (about 16 squares)
1/4 cup no-trans-fat 65% vegetable oil, spread stick or butter, melted
1 tablespoon sugar
1 quart (4 cups) vanilla no-sugar-added, reduced-fat ice cream, slightly softened
1 can (8 oz) crushed pineapple in juice, undrained
2 teaspoons rum extract or 1/4 cup rum (I prefer Bacardi)
2 teaspoons coconut extract, if desired
1/4 cup toasted* flaked coconut, if desired
PREPARATION
Heat oven to 350°F. In small bowl, mix cracker crumbs, vegetable oil spread and sugar. Press into ungreased 8-inch square (2-quart) glass baking dish. Bake about 10 minutes or until dry. Cool completely, about 1 hour.
In large bowl, beat ice cream, pineapple with juice and extracts with electric mixer on low speed just until blended. Spread in baked crust. Freeze about 6 hours or until firm.
Remove dessert from freezer about 5 minutes before serving. Sprinkle with coconut
This recipe takes about 20 minutes to prepare; however, you need at least 6 hours to freeze so make this the evening before you serve it.
Enjoy!
********************
Want to join in the Sabroso Saturday blog hop? It's easy! Just share a sabroso/tasty recipe you have posted this week by adding a DIRECT link to it.  
I heard on Twitter that Yoly will be making muffins, Carolyn will be making Mediterranean Chicken, Joscelyn will be making Chicken Fingers and Julie will be making a Pastelon de Carne! Not sure what Pastelon de Carne is? Hop on over to her blog and find out!
Make sure you visit the other participants as well!