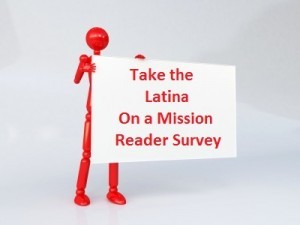 Image: Filomena Scalise / FreeDigitalPhotos.net, edited by Ms. Latina.
Just a reminder, I am conducting a reader survey.
The survey contains 14 questions that should take less than 3 minutes to complete. The responses will help me get to know you and your interests so that I can provide you with a more enjoyable experience.  Your responses will also help me decide what direction to take with Latina On the Mission in the coming year. Rest assured your responses will be kept confidential.
Upon completion of the survey, you will also have the chance to enter to win a $25 gift card to Old Navy, the Gap or Banana Republic!
Click HERE to begin the survey.
Survey closes on October 16, 2010. A winner will be randomly chosen and announced on or about October 17, 2010.
¡Gracias! / Thank you!