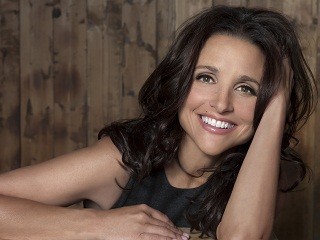 I recently started watching "The New Adventures of Old Christine" on television. Although I'm not much of a TV person, I felt myself drawn to this show starring Julia Louis-Dreyfus, from Seinfeld.
The comedy is about a divorced working mom who's juggling the daily stresses of motherhood, work, dating, her son's new school and maintaining a positive relationship with her ex-husband (Um yeah right!), who's dating a new pretty younger girlfriend who's also named Christine. Talk about complications, it's worse than my 1st pregnancy!  
Old Christine's world is crazy! Not only does she have to deal with her ex-husband Richard (who's still very much in her life, in spite of the fact that he has a new girlfriend), but she also lives with her brother Matthew while raising her son Richie as a single mom. On top of that, she owns a gym with her best friend Barb, frequently goes on dates, and has to deal with the "meanie-moms" at her son's private school? Some how, though, Christine manages to juggle it all while making me laugh in the process.
Just like Christine, I'm divorced and juggling the daily stresses of motherhood, my son's new school and trying to maintain a positive relationship with my ex.  Also like Christine, there was a time when my life was so chaotic that I would call and leave myself messages, just to remind myself of something I had to do. It got to the point where I actually filled up my message box with reminders and, yes, even a few "I love you! You're worth it!" messages (HA!) so it was good to see that I wasn't the only frazzled Mamí out there!
I'm sure there will be many more similarities as I continue to watch the show. Thank goodness because it makes me feel just a tad more normal! If you want to join in my new television addiction, and perhaps tweet it up with me during the show, you can tune in to "The New Adventures of Old Christine" 5 days a week.  Just check out http://www.oldchristineweekdays.com/listings/ to find your local show times.
While you're on the site, make sure you check out the videos, they are hilarious! I have to admit I could totally relate to the "Surround Yourself with Good Positive People" video. Yup, I admit it, at one point that was definitely me! 
Have you seen "The New Adventures of Old Christine" yet or do you plan to? Let me know in a comment!
Disclosure: I have been hired by Warner Bros WBWord division to raise awareness for 'The New Adventures of Old Christine".