Its been some time since I've spoken of Swagbucks, an online reward site that rewards you with digital dollars called Swag Bucks.  
I highly recommend the site because its an easy way to earn by searching the Internet. By using their search engine, which includes results from Ask.com and goggle.com, you can quickly amass a substantial amount of Swag Bucks. These bucks can then be redeemed for cash, gift cards, DVDs, CDs and more!
I recently traded in my Swag Bucks for Amazon giftcards. I used the giftcards to purchase the two Corelle Livingware Dinnerware sets shown below.  By using my digital dollars, I was able to free up my own money to pay down debt and stay on track with my finances.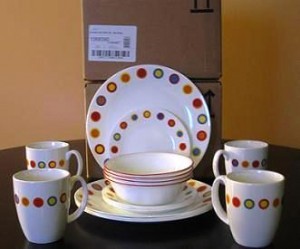 If you haven't already joined Swagbucks, you can join by using my Swagbucks affiliate code. By using my link, you will  receive 30 swagbucks to start you off. You can exchange those 30 Swagbucks for various items or you can save your Swag Bucks for a larger prize or even to help purchase your family Christmas presents.
I also want to point out that Friday is Mega Swag Bucks Day, which means you can earn up to 10,000 in one search, so go ahead collect that swag, just don't forget to stash that ca$h!
Click to join  Swagbucks.com or to read more about it.
Disclosure:  I am an affiliate of Swagbucks.