The CSN giveaway has ended. Not surprisingly, the giveaway had a few HUNDRED entries; however, only ONE entry can win today.  After omitting the entries that were entered after the cut off time, the winning number is shown below.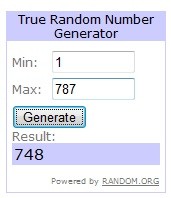 Lucky number 748 won! Congrats Helen you've won an $80 gift certificate to use at any of the 200+ CSN sites!
An email has been sent, please provide the requested information no later than September 5, 2010, 11:59 PM, EST, or a new winner will be selected!