The Power a Bright Future's Clorox Gift Basket giveaway has ended. After removing the comments which were submitted after the cut off time, I used random.org to select the lucky winner. The lucky winner will receive a gift basket of Clorox goodies.
Without further ado, the winning number was…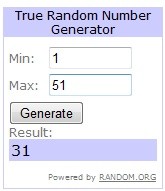 Lucky number 31! Congrats Laurie you won! 
An email has been sent, please provide the requested information no later than September 9, 2010, 11:59 PM, EST, or a new winner will be selected!