The Power a Bright Future Clorox Giveaway has ended. I just have to say that I loved reading your responses to the Mandatory Entry:
If you had $50,000 to fund one program in your child's school, what would it be? 
I love the passion each and everyone of you showed when answering this question. I hope you also took the opportunity to nominate  or vote for your school at www.powerabrightfuture.com. If you did, please let us know in a comment!
Now without further ado, the winning number  is…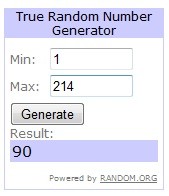 Lucky No. 90! Congrats Lilian Hurn you won the $50 AMEX gift card!
An email has been sent, please provide the requested information no later than September 9, 2010, 11:59 PM, EST, or a new winner will be selected!