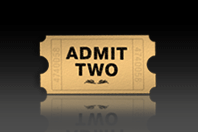 Fandango is running a special today.  In celebration of Friday the 13th, it is selling 2 for 1 movie tickets.
The BOGO is available when you buy one movie ticket for any film currently on sale  with your Visa card. You'll receive a second ticket to the same show FREE, while supplies last.
To get this offer, click HERE.
Enjoy and don't forget to stash that extra ca$h!