It's Sabroso Saturday (Translation: Tasty Saturday)!
The day when we share recipes that have helped us stretch our budget, our imagination and/or our taste buds. Recipes that have been tested and approved by YOU.
So link up and share those savory, satisfying, succulent, ¡Sabroso! recipes. Be sure to also visit the other participants!
¡Buen provecho!
********************
This week I chose to make Arepitas de Yuca, which dictionary.com translated to "cassava arepitas" and I think can be translated to yucca fritters. Please let me know if this incorrect.
Arrepitas de Yuca is an easy Dominican side dish that I learned from my Uncle's wife. It is made from yucca, a root plant shown above, and goes well with rice and red beans. My boys and I also like to eat it as a snack or with a homemade garlic mojo sauce.  Recipe for Garlic Mojo Sauce is available upon request- just leave me a comment!
Arepitas de Yuca
Prep Time: 15 minutes | Cook Time: 15 minutes| Servings vary based on size
2 lbs of yucca (frozen or fresh)
2 whole eggs OR 4 egg whites
1/2 teaspoon of salt
2 teaspoons of butter
1 cup of Extra Virgin Olive Oil
If fresh, peel skin from yucca and grate.
Mix grated yucca, eggs, butter and salt together. Note, you can also use a blender to grate and mix. It saves time and your fingers!  
Heat oil in a frying pan over a medium to high flame.
Deep fry yucca mix one teaspoon at a time, until golden. 
I served my arrepitas with corn (shown below) and arroz con pollo / rice and chicken.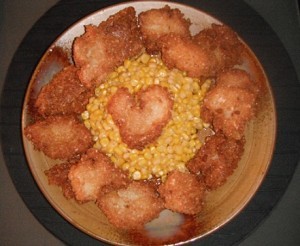 TIP: If you are pressed for time, you can buy frozen grated yucca. I've only used Goya so I cannot vouch for any other brands. I find that it works just as well and no one is the wiser.

********************
This week several bloggers have joined with me to offer our readers a full meal! You can visit them by clicking on their links below. These bloggers are noted with an ASTERICK. Make sure to visit them and also add the DIRECT link to your Sabroso Saturday recipes!