I've selected the winner of the Urban Wear LRG Boys outfit. The lucky winner will receive a T-shirt and denim shorts for that special boy in their life. The winner need only state what size they require: Small (8), Medium (12), or Large (16).
So without further ado, the winner is…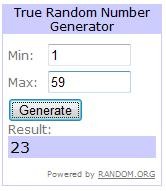 Lucky number 23! Felicidades/Congratulations Alba Guevara, you've won the LRG Urban Wear boys outfit!
Send your contact information and size requirement to MsLatina (AT) latinaonamission.com and write "Urban Wear LRG Boys WINNER" in the subject line.
The information must be received no later than Tuesday July 20, 2010, 5:00 PM EST or a new winner will be selected!