I love to eat! In fact, I have the pounds to prove it!
I love savory, satisfying, succulient, sabroso meals. Notice the "S" theme? I did! Which made me think why not start a link-up for these meals, along the lines of Wordless Wednesday, where everyone can share their recipes. You would be able to link up any recipe blog post or vlog you created that week.
By sharing, we'll tantalize our tastebuds with new recipes that have already been tested and approved by other families. Of course, I am hoping to find some sabroso/savory meals that are healthy as well, because honestly I could stand to lose a few pounds!
One recipe from the linked up posts will be highlighted each month. It will win the prestige of being that month's  "¡Sabroso! Saturday Winner" and will be showcased throughout the month. 
If you have the skills and are willing to design a "¡Sabroso! Saturday Winner" button, please e-mail MsLatina (AT) latinaonamission.com Its a great way to promote YOUR design skills since I will make sure to note that you created it!
******************** 
Till then, I've noted a recipe I have tried out at my home. It was created by Leo Valenzuela for Bisquick's "La Receta de Mi Cocina" contest (Translation: The Recipe from My Kitchen") and won him $3,000! I loved it because it was easy to make and my boys loved it. Note: I used ground turkey instead of steak – much more economical and just as tasty!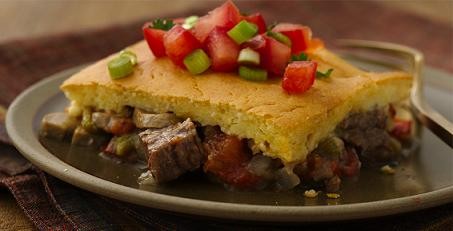 Beef Cake with Vegetables/Leo's Pastel de Carne con Verduras
Prep Time: 20 Minutes Start to Finish: 1 Hour 15 Minutes
Meat
1 tablespoon olive oil
1 lb beef flank steak, cut into 1-inch cubes
1/2 large onion, finely chopped
1 clove garlic, finely chopped
6 large plum (Roma) tomatoes, seeded, chopped ( 3 1/4 cups)
1 large poblano chile, roasted, seeded, cut into strips
1 jalapeno or campana (Scotch bonnet) chile, finely chopped
1 can (4.5 oz) chopped green chiles, drained
1 jar (4.5 oz) Green Giant® sliced mushrooms, drained
1 teaspoon salt
1/4 teaspoon freshly ground black pepper
Topping
2 cups Original Bisquick® Mix
1 1/2 cups water
2 whole eggs
1/4 teaspoon salt, if desired
1/4 teaspoon garlic salt, if desired
1/4 teaspoon freshly ground black pepper, if desired
Directions
Heat oven to 350°F.
In 12-inch skillet, heat oil over medium high heat. Add steak; cook until brown on all sides. Add onion, garlic, tomatoes, poblano chile, jalapeno chile, green chiles, mushrooms, 1 teaspoon salt and 1/4 teaspoon pepper. Cook over medium-high heat 3 minutes, stirring occasionally .
Place ingredients in ungreased 13x 9-inch (3-quart) glass baking dish.
In medium bowl, mix all topping ingredients until blended. Pour over meat mixture in baking dish.
Bake uncovered for 45 to 55 minutes or until golden brown. Serve warm.

 
 ******************** 
Enjoy! Hope to see you next Saturday during our inaugral "¡Sabroso! Saturday" Link-Up!