Today is ¡Sabroso! Saturday!
The day when we share recipes that have helped us stretch our budget, our imagination and/or our taste buds. Recipes that have been tested and approved by YOU.
So link up and share those savory, satisfying, succulent, ¡Sabroso! recipes. Be sure to also visit the other participants!
Buen provecho!
********************
I discovered this heart healthy, as well as sabroso/tasty, meal in the Go Red for Women Recipes for the Heart booklet. It contains edamame (green soybeans), which I love and is great for maintaining your weight without losing taste. Its also a no fuss recipe thats perfect for these hot summer days!
FYI: You can sign up to receive heart healthy recipes by clicking HERE.
Edamame and Navy Bean Salad with Orange-Balsamic Dressing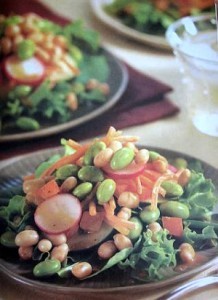 1 1/2 cups of frozen shelled edamame (green soybeans)
1/4 cup fresh orange juice
2 tablespoons Dijon mustard
2 tablespoons balsamic vinegar and 1 tablespoon balsammic vinegar (do not mix)
1 teaspoon olive oil
1/4 teaspoon pepper1
15.5 ounce can of Navy Beans, rinsed and drained
1/4  teaspoon salt
2 ounces mixed salad greens, torn into bite size pieces (about 2 cups)
1/4 medium cucumber sliced crosswise
1 medium Italian plum tomato diced
1/4 cup shredded carrot
1/4 cup sliced radishes
Prepare the edamame using the package directions, omit the salt.
Meanwhile, in a small bowl, whisk together the orange juice, mustard, 2 tablespoons vinegar, oil and pepper. Set aside
In a medium bowl stir together the edamame, navy beans, salt, and remaining 1 tablespoon vinegar. Let stand for 10 minutes at room temperature or cover and refrigerate until needed, up to 5 days.
At serving time, put the salad greens on plates. Top, in order, with the cucumber, tomato, carrot, radishes, and bean mixture. Pour the dressing over all.
I think the above salad goes well with the Simple Sangria by Julie, submitted in last week's link-up. Let me know what you think.
Enjoy!
********************