The Pantene Giveaway has ended. Not surprisingly, it was a very popular giveaway, with over 250 comments. Two very lucky commenters will win a Pantene gift basket valued at $55 The gift basket will contain products you selected in your mandatory answer, as well as some other Latinalicious goodies.
When entering giveaways please make sure you follow the directions correctly. Sadly, after reviewing the comments, I had to disqualify one of the winners because they failed to do so.
So without further ado the two Pantene Giveaway Winners are…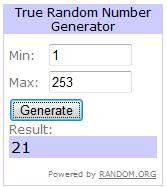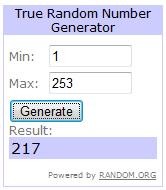 Lucky numbers 21 and 217! Congrats Kim and Isolated Existence, you are the lucky winners!
Send your contact information and size requirement to MsLatina (AT) latinaonamission.com and write "Pantene's Giveaway Winners!" in the subject line.
The information must be received no later than Saturday, July 31, 2010, 5:00 PM EST or a new winner will be selected!