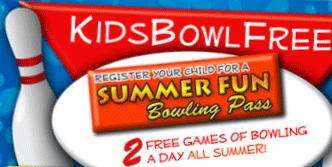 Looking for a cheap outing for your children this summer? How would you feel about FREE? Did I hear a resounding YES! I hope so because this summer you will be able to take your kids bowling for FREE!
Children will have the opportunity to bowl TWO free games at select theaters this summer.
To enjoy this freebie, follow the directions I copied and pasted below.
********************
How the program works:
All of the participating bowling centers are listed at http://www.kidsbowlfree.com/all_centers.php
Select a bowling center near you.
Register directly on the bowling center page (The registration is valid only at the bowling center where you register and cannot be used at any other bowling center unless otherwise noted.)
Once you register, you will have the opportunity to purchase the family pass. The Family Pass was created to allow for adult family members to enjoy bowling throughout the summer as well. The Family Pass starts from $24.95 and includes 2 GAMES PER PERSON PER DAY. The Family Pass covers up to 4 adult family members. You may have 1, 2, 3, or 4 adults on the family pass.
This low one-time payment covers up to 4 adults for the entire summer and is a tremendous value.
***Very Important****
After your registration we will send you two (2) emails.
The first email is a welcome email and contains your account information.
The second email is very important. This email does not contain coupons, but you will need to click the link confirming your subscription to our service. If you do not click the link, our system will not send your weekly coupons to you.
********************
Enjoy and don't forget to stash that ca$h!