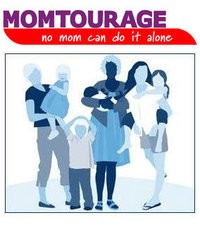 If you follow me on Twitter than you've already heard the wonderful news! I'm a writer on NBC Universal's newly relaunched site, Momtourage.com.
The site is a wonderful example of a Mom's life, full of a slew of people who help you become the best Mom you can be. They hold you when you're down, share your joys when you're up and make you laugh till you're ready to cry, because we know NO mom can do it alone.
So come on by and join me. Let me be a part of your Momtourage cause we can all use a bit of Latinalicious flair without the chancletazos*!
Hope to see you in my other corner of the net!
*Chancletazo- the act of a parent hitting you with flip-flops. Most Puerto Ricans have experienced a chancletazo at one point or another. In fact, I still marvel at my own Mom's uncanny ability to aim that flip flop with the precision of a Ninja!