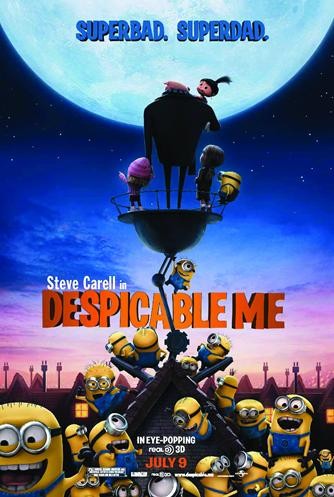 The boys and I had the opportunity to see a pre-screening of Despicable Me several weeks ago. It was highly enjoyable and a great family friendly entertainment choice for all ages.
Below is my review. Be forewarned, it may contain spoilers!
********************
The main character, Gru, lives for his job. He is a "villain" intent on climbing the evil ladder to become the number one villain in the world. When Gru's position as top villain is taken away by a younger more evil villain called Vector,  he comes up with a hair-brained idea. Working with an adorable group of minions, he devises a plan to shrink the moon and steal it.  There is only one problem. He needs money! So off he goes to the Bank of Evil, formerly know as Lehman Brothers!  (I thought this was hilarious, btw). Mr. Perkins, the Bank of Evil's President refuses to loan Gru the money unless he steals a shrink ray. He does but Vector eventually steals from him.  Gru must now steal it back.  
While Gru is going through his issues, three orphan girls, Margo (oldest sister), Edith (middles sister), and Agnes (youngest sister) are facing their own dilemma with Miss Hattie, mistress of the local orphanage. She forces them to sell cookies or be placed in the box. A frightening place for any child made even more so with Miss Hattie's demeaning comments.
Gru finds the girls in front of Vector's home trying to sell him cookies and realizes that they can be used to enter Vector's home! Discovering that they are orphans, he rushes to the orphanage to adopt them. During the interview with Miss Hattie, Gru ends up speaking Spanish telling her, "You have a face como un burro!" (Translation: You have a face like a donkey!) Of course, she doesn't realize she is being insulted and allows him to adopt the girls.
Slowly but surely the girls gain access to his heart. He eventually realizes that his most rewarding job is not being a super villain but a Dad. He also comes to terms with his own issues with his Mom, gaining her respect as well.  
********************
Despicable Me has the happy ending all children love! It had some great laughs and adorable scenes that are sure to make your kids want the DVD.  Andrew, my youngest, is already clamoring for it! I have to admit I want as well.
Memorable Quote:
Younger Gru tells his mother he is going to the moon one day. She replies, " I'm afraid you're out of luck. NASA isn't sending monkeys anymore!"
Have you seen the movie? What did you think?