The summer is here and you know what that means! Dancing, parties, cruises and of course touchable skin!
As a Latina, summer includes lots of salsa dancing. As a dancer with two left feet, it also means my dancing partner has to guide me so I won't step on their toes, which means I BETTER have touchable skin to make up for all the toe stomping involved! One body wash which I use is Caress. I particularly love the Whipped Souffle Blackberry Cream and not because I received one for review either! It smells DI-VINE, leaves your skin looking radiant and and most importantly moisturizes. Heck, if I was a man and smelled me I would want to dance with me too, even if I was getting a stilleto stuck in my toe!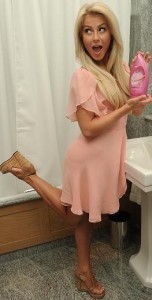 Julianne Hough, "Dancing with the Stars" two-time champion  provides three invaluable tips for getting touchable skin. I noted them below.
Buff. To flaunt fab skin in the city, use a pumice stone to treat dry spots, like elbows and heels.
Hydrate. Boost your water intake – it will help you feel refreshed and vibrant all night long.
Indulge. Before you hit the town, maximize your shower and make skin flaunt-worthy with the new Caress Whipped Soufflés. These ultra-light, yet creamy body washes deliver both incredible fragrances and moisturization in one.
She also gives a few salsa dancing tips below. 
My tip: Have fun and shake what your Momma gave you!