The Father's Day Books giveaway has ended. It was a short contest – 2 days- yet garnered 20 entries! I'm not surprised because the below listed books from Chronicle are sure to delight for many, many years.
The lucky winner will receive the following books:
Dear Dad By Geoff Blackwell
Handy Dad 25 Awesome Projects for Dads and Kids By Todd Davis
Memento: The Gift of a Lifetime By Michael McQueen
Now without further ado, the winner is …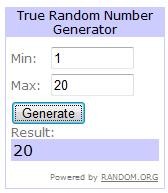 Number 20! Congrats Peggy, you've just won a fabulous prize pack.
Send your contact information to MsLatina (AT) latinaonamission.com and write "Winner of the Father's Day Books from Chronicle" in the subject line.
The information must be received no later than Friday June 18, 2010, 10:00 AM EST!
Enjoy!